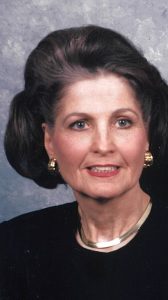 On June 9, 2023, our Heavenly Father decided Mary Frances Williams Dinan had done enough by living a good and fruitful life and peacefully brought her back home. Her faith in God and loving devotion to her family were the foundations of Mary Frances' life, first and always. Whether in her role as a wife, mother, grandmother, great-grandmother, daughter, little sister, aunt or friend, Mary Frances (Williams) Dinan left a "legacy of love" by her actions. Her family and friends will always remember her as caring, loving, protective, generous, and selfless to a fault. She was charming and beautiful. She was strong, and at the same time always humble, gentle, and kind. She created a home that was warm and welcoming to everyone. She was a passionate college sports and golf fan. She was loved and will be missed by all.
Those who survive her, daughter and constant care-giver for the last three years, Mary Ann (Dinan) Snead, son John N. Dinan (and wife Erin), grandchildren Laci Ann (Dinan) Wolff (and husband Ben), Ivy Elizabeth Dinan, John Reed Dinan (and wife Holly), Joseph Cole Dinan, great-grandson John Armstrong ("Armie") Dinan and a host of nephews and cousins, joyfully celebrate her eternal reunion in paradise with those family members that predeceased Mary Frances, including her husband of 63 years, and the love of her life, John Armstrong Dinan, her son Jeffrey Armstrong Dinan, her father and mother, Norwood Wade Williams and Rosa Heath Williams, her brothers, Donald Williams, David Williams (and wife Lucille) and Wilton Heath Williams (and wife Roma) and her father-in-law Jack ("Pop") Dinan, and mother-in-law Josephine Hudgins Dinan.
In accordance with her wishes, Mary Frances' family will hold a private burial ceremony to be set at a future date.