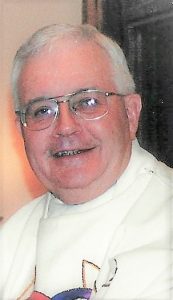 Father John Campbell McGinnity, 88, of Hot Springs, Virginia passed away Tuesday, December 14, 2021, at Bath Community Hospital in Hot Springs, Virginia.
He was born January 30, 1933, in Managhan, Ireland, the son of the late John McGinnity and Mary Brady McGinnity.
He was the second son of John and Mary McGinnity. He was one of eight children, seven boys and one girl. He was educated in Managhan at primary and secondary. He gave up teaching in 1970 to join the priesthood. Father McGinnity was ordained on June 15, 1975, in All Hallows seminary, Dublin. After serving as associate pastor at St. Peter Parish in Fairmont, he was appointed pastor of St. Peter Parish in Welch and Christ the King Parish. He served as Pastor at Sacred Heart Parish in Point Pleasant, St. Francis de Sales Parish in Beckley, and St. Catherine of Siena Parish in Ronceverte and its missions at Lewisburg and Union until retirement from the Diocese in West Virginia. Father received a calling to come out of retirement and pastor at the Shrine of the Sacred Heart in Hot Springs, Virginia, where he would faithfully serve for an additional 17 years. He made many friends over the years and loved playing golf and scrabble. He had a unique sense of humor and infectious smile!
He is survived by a sister; Margaret Frances Connor of Wexford, Ireland; two brothers Celestine McGinnity, and David Brendan McGinnity both of England.
He was preceded in death by four brothers, Patrick McGinnity, James Sylvester McGinnity, Joseph Anthony McGinnity, and Edmund Ignatius McGinnity.
A Mass of Christian Burial will be conducted at 11:00 a.m., Saturday, January 15, 2022, at the Shrine of the Sacred Heart in Hot Springs, with Father Tom Collins, celebrant, Father Jim Dorson, homilist, Father Kevin Segerblom and Father Augustine Lukenge concelebrants. Interment will be in Warm Springs Cemetery at a later date.
Pallbearers will be David Judah, Jeff Wilson, Lex Eley, Michael Wilson, Clifford Williams, Herb Godchalk, and Pete Pitard. Honorary Pallbearers will be Peter Judah, David Powell, William Huff, and Johnny "Moe" Gazzola.
Memorial contributions may be made to the Shrine of the Sacred Heart Catholic Church, P.O. Box B, Hot Springs, Virginia 24445.