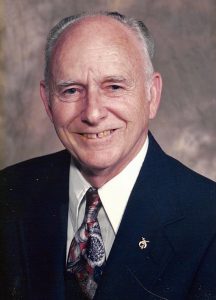 Walker Lewis May, 93, of Hot Springs, Virginia, went to be with the Lord on Friday, April 15, 2022, at Augusta Health in Fishersville, Virginia.
He was born June 2, 1928, in Natural Well, Virginia, the son of the late Dallas Alvon May and Anna Pauline Andrews May. He was married to the late Charlotte Thacker May who preceded him in death on August 9, 2013.
Mr. May was a graduate of Valley High School, He was a member of the Virginia Chapel United Methodist Church where he sang in the choir, and the charge choir, was a lay speaker and trustee of the church. He was a member of the Millboro Masonic Lodge #28 and was a former Shriner. He was the head meat cutter at the Homestead Resort for 40 years before his retirement. He was an avid outdoorsman who enjoyed hunting, fishing, and golf. He played semi-pro baseball with the Hot Springs Indians.
He is survived by three children, Dallas Walker May & wife Kaye of Millboro, Virginia, Gwen Phillips & husband Kes and Karen McNally & husband Kevin all of Hot Springs; grandchildren, Keswick Phillips & wife Teresa of Warm Springs, Craig Phillips & wife Jill of Hot Springs, Kris Phillips of Hot Springs, Jennifer May Crawford & husband Joey of Fincastle, Virginia, Jason May & wife Courtney of Buchanan, Virginia, Mandy McNally & husband Mike Boyka of Erie, Colorado; great grandchildren, Eli, Noah, Abbey, Isaac, and Hannah "Annie" Phillips of Hot Springs, Ryleigh Phillips of Warm Springs, Sadie & Cylas May of Buchanan, Dax Crawford of Fincastle, Skylar Shelton of Warm Springs, and Preston Boyka of Erie, Colorado; two brothers, Ashby "Skeeter" May of Bacova, Virginia and  Ernest May & wife Becky of Grove City, Pennsylvania; a number of nieces and nephews; and a special friend, Phillip Layman.
In addition to his parents and wife, he was preceded in death by a sister, Virginia Strasser; an infant brother, Dallas Alvon May, Jr.; an infant sister, Maxine May; and a grandson, Matthew McNally.
A funeral service will be conducted at 2:00 p.m. on Thursday, April 21, 2022 at McLaughlin & Young Funeral Home with Pastor Sang Lee and Pastor Donald Lee Altizer officiating. A Masonic Service will be presented by the Millboro Masonic Lodge #28. The family will receive friends one hour prior to services from 1:00 – 2:00 p.m. at the funeral home. Interment will be in Warm Springs Cemetery. Pallbearers will be Keswick, Craig, Kris, Eli, Noah, and Tracy Phillips, Jason May, and Joey Crawford.
Memorial contributions may be made to Virginia Chapel United Methodist Church Memorial Fund, c/o Susan Phillips, P.O. Box 251, Warm Springs, Virginia 24484; or Hot Springs Rescue Squad, P.O. Box N, Hot Springs, Virginia 24445; or the Millboro Area Rescue Squad, P.O. Box 295, Millboro Virginia, 24460.