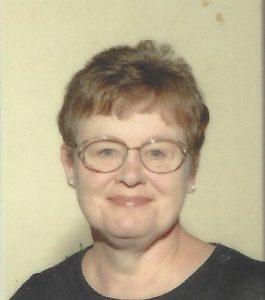 On August 7, 2022, Barbara Waldeck, passed peacefully surrounded by her sister, husband, children, and grandchildren at her home on Shady Lane, Hot Springs, VA.
Barbara was born at Mountain State Hospital in Charleston, West Virginia, on December 26, 1946.  She was the eldest child of Talma Nadine Coffman née Fisher and Jesse James Coffman.  In addition to her parents, her formative years were strongly influenced by her paternal grandmother, Julia Coffman Boggess, and as well as her paternal step-grandfather, Odford Hansford "Od" Boggess.  Grandpa Boggess was the only person to ever love her un-conditionally, and it was his views on equality and individual worth that would shape most of her political and social ideals.
Her maternal grandparents were Ernie McKee Fisher and Oscar Gordon "Ott" Fisher of Charleston, WV.
Barbara grew up in the same house in which her father and grandmother had been raised and she worshipped at Thomas Chapel Methodist Church; whose membership resembled branches of her ancestral tree.  At age eleven, Barbara was saved and baptized and has been a lifelong Christian.  While in Bath County, she served as a Sunday School Teacher, Sunday School Superintendent, Bible School Teacher, Bible School Director, Circle Chairman, Church Historian, and Church Elder at The Hot Springs Presbyterian Church.  One of her great joys was the baptisms of both Forrest and Hunter at Woodland Union Church at nearly the same age as her commitment in Sissonville, WV.
During her elementary years she attended Wallace Heights Elementary which her father had attended as a child.  Her secondary years were spent at Sissonville High School, which her parents had both attended.  Likewise, this is where Barbara in the ninth grade met the love of her life, Roger Lee Waldeck Jr.
After high school, Barbara enrolled at Marshall University in Huntington, WV.  While at Marshall, she was inducted into Kappa Delta Pi, an International Honor Society in Education, of which she remained a lifelong member.  She graduated cum laude from Marshall in 3 ½ years, receiving a degree in mathematics and general science.  She taught in Kanawha County, WV, before coming to Virginia where she taught in Campbell County, Alleghany County, and Bath County Schools.  In 2006 after 29 years of teaching in Bath County, Barbara retired with a total of 34 years.
On June 14, 1968, Barbara married Roger L Waldeck Jr.  The Waldeck's were blessed with two children;  a son, Lee, and a daughter, Amy.  Having her own home and her children were of unprecedented importance to Barbara.  She regarded both of her children as miracles sent by God and miracles they were.  Both Amy and Lee were perfectly made; tall, strong, intelligent, and obedient.  While Lee and Amy lived at home, the family remained busy with church, scouting, dancing, hunting, cooking, sports, and community events.  From the fall of 1977 to the spring of 1993, family life centered almost exclusively around church and school activities.
During her career in education, she served as class sponsor for proms, senior trips, club sponsor, Beta Sponsor, chairman of both the math and science departments, chairman of a SACS visitation, gifted coordinator, faculty representative on numerous special committees, and lead teacher in the Effective Teaching Program.  One of her greatest honors was her membership in and presidency of the local Alpha Beta Chapter of Delta Kappa Gamma International Society of Key Women Educators.   Following her retirement, she also served 5 years on the Bath County School Board.
Each year brought rounds of success on SOL test, which she proudly and loudly praised.  On Thursday, October 8, 1996, Gov. Jim Gilmore recognized Mrs. Waldeck for having served on a standard-setting committee for the standards of Learning Program.
In 1996, Waldeck served as mentor-sponsor for Jessica Roach for her project "Spring Melt as Casual Factors in the Variation of Firn-Park Stratigraphy on the Juneau Icefield".  This project was a division winner at the 37th annual Shenandoah Valley Regional Science Fair held at James Madison University.  This project also won an environmental science category, an Edison Society first place, a U.S. Army award and 3rd place in the Westing House Science Contest.
By far, Mrs. Waldeck's proudest moment in teaching came when 4 of her students earned a score of 4 on their AP Calculus AB Test.  Those students were Tiffany Kimmel, Lareina Latimer, Kendall Manion, and Keith Manion.
It was at Bath County High School that Barbara amassed a lifetime of memories.  In 1997, she wrote the Bath County High School Ring Ceremony in honor of the Class of 1993, of which her daughter Amy was a member.  The class of 1997 was the first class to participate in a Ring Ceremony at Bath County High School.
Having been preceded in death by her parents and grandparents as well as her son-in-law, Edward Walton, Barbara is survived by her husband, Roger, son R. Lee Waldeck III (Shannan) of Hot Springs and a daughter Amy Waldeck Walton of Burlington, NC.  Also surviving are her five greatest blessings, her grandchildren:  Logan Catherine Walton of Brooklyn, NY, Benjamin Porter Walton of Burlington, NC, Forrest Lee Waldeck of Millboro, VA, Hunter Lane Waldeck of Millboro, VA, and Erin Amelia Walton of Burlington, NC.
Her additional survivors include her sister, Janie Bailey (Marshall), nephews James Richard Ivan Bailey and Aaron Bailey (Megan); great nephews Ethan and Alexander Bailey, Campbell and Asher Bailey.  She is also survived by her brother-in-law James Waldeck (Gail) and their children and grandchildren all of the Winston-Salem, NC area.
A funeral service will be held 12 noon, Saturday, August 20, 2022, at Woodland Union Church, 347 McClung Drive, Millboro, Virginia 24460. Pastors David George and Donald Lee Altizer will be officiating.
The family will receive friends one hour prior to services from 11:00 a.m. – 12:00 p.m. at Woodland Church.
In keeping with her wishes, Barbara will be cremated and her ashes will be sprinkled.
Memorial contributions may be made to the Hot Springs Rescue Squad or the Hot Springs Fire Department.  Both can be mailed to P.O. Box N, Hot Springs, Virginia 24445.