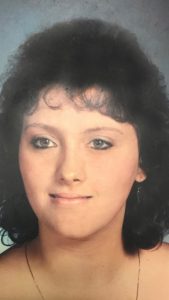 Donna Mace Hepler "Psalm 91 Girl", 53, of Hot Springs, Virginia went to her eternal family reunion on Thursday, June 29, 2023.
She was born November 18, 1969, in Hot Springs, Virginia, the daughter of the late Larry Otis Mace and Mattie Virginia Ailstock Chestnut.
Donna began childcare as a youth out of necessity, being the oldest of her siblings. Her working career was in childcare working with Pearl Buzzard at the Homestead and a nanny to two different families. She was a member of the Faith Covenant Family Church where she contributed her devotion and skills, especially in the youth ministry. She believed in Jesus, and we believe Jesus believed in her as many lives as He touched through her. She was a loving wife, mother, sister, and grandma, who enjoyed her family, especially the children. She loved musicals, cooking for her family, and spending time with her church family. Donna saw the beauty in the small things. She liked to read and joke with her siblings.
She is survived by her husband of 27 years, Mark Allen Hepler, whom she married on June 15, 1996; two children, Walter Mines and Asher Hepler; six grandchildren, Sophia, Nicholas, Snowyann, Ruby, Violet, and Silas; brother Larry Mace & wife Michelle; sisters, Mandy Martin & husband Randy, Heather Reynolds & husband Bobby, Christy Mace, Wilma Stogdale & husband, George, Jessica Thompson & husband Dale, Lynnora Shaver & husband TJ, Nancy Crummett & husband, Roy; stepbrothers & stepsisters, Teresa McClellan, Shelton Burns, Rachel Wust, Roy Burns, and Natasha Barron; 42 nieces and nephews; a mother-in-law, Lois Hepler; brother-in-law, Timothy Hepler; sister-in-law, Rita McCune; and her stepfather, Darrell Chestnut; and very special friends, the Haynes Family .
In addition to her parents, she was preceded in death by seven premature babies, Ezra Ichabod on November 14, 2001, twins Elizabeth Jane and Zechariah Thomas on October 24, 2002, Sally Abigail on March 14, 2005, Christopher Michael on December 25, 2006, Samuel Malachi on August 11, 2008, and Joy Cupcake on October 10, 2009; and her father-in-law, Paul Hepler.
A Celebration of Donna will be conducted at 4:00 p.m., Thursday, July 6, 2023, at Bath County High School with Steve Shaver officiating. Following the service, everyone will gather at the Hot Springs Fire & Rescue Building to enjoy a meal and a time of fellowship with the family.
Memorial contributions may be made to Faith Covenant Family Church, 54 Wilkinson Ave., Hot Springs, Virginia 24445 to support their ministries Comfort Care and Operation Christmas Child, both which were close to Donna's heart.