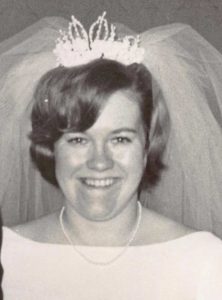 Berna "Bernie" Leigh Connell Carpenter, 77, of Bolar, Virginia passed away Wednesday, October 04, 2023, at her daughter's home in Bacova, Virginia.
She was born October 26, 1945, in Boston, Massachusetts, the daughter of the late William Larry Connell and Hallie Juanita Gilmore Connell.
Mrs. Carpenter was a "domestic engineer". She was a member of the Church of Jesus Christ Latter Day Saints in Franklin, West Virginia. She enjoyed gardening and canning. She loved to attend barn dances. She was a caretaker for both of her in-laws and loved taking care of her grandchildren.
She is survived by eight children, Nora Darragh & Hap of Bacova, James B. Fish II & wife Anna of Whitehorse Beach, Massachusetts, Lucas Fish & wife Lori of Coco Beach, Florida, John H. Fish & wife Angela of Sanford, Florida, Joseph E. Fish & significant other, Lupe of Mesa, Arizona, Levi A. Fish of Atlanta, Georgia, Sara Penn of Warm Springs, Virginia, Samuel N. Fish & wife Tabatha of Millboro, Virginia; grandchildren, Jacob, Rachael, James III, Madison, Raven, Conner, Christopher, Amaris, Gabriel, Jesse, Heath; step-children, Audrey Brown of Hot Springs, Amy Ruckman & husband Blaine of Big Valley, Virginia, and Ronnie Carpenter of Hot Springs, her first husband, James Bennett Fish of Florida, sisters, Betty Gurney & husband Clint of Fountain Hills, Arizona, Mary Ellen Robitaille of Alexanderia, Virginia; a brother, John Connell; numerous step-grandchildren, and step great grandchildren.
She was preceded in death by her second husband, Garland Carpenter who passed away July 4, 2012; and a brother, Thomas Connell.
A memorial service will be conducted at 2:00 p.m., Thursday, October 26, 2023, at McLaughlin & Young Funeral Home.
Memorial contributions may be made to Hot Springs Rescue Squad, P.O. Box N, Hot Springs, Virginia 24445, or the Bolar Rescue Squad.