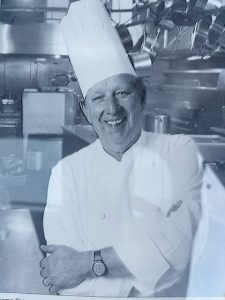 Albert Joseph Schnarwyler, Jr., 93, of Daleville, Virginia, formerly of Hot Springs, Virginia, passed away Monday, June 20, 2022, at the Carrington Cottage Memory Care Center in Daleville.
He was born July 4, 1929, in Lucerne, Switzerland, the son of the late Albert Joseph Schnarwyler, Sr.  and Maria Spandora Schnarwyler.
Mr. Scharwyler worked at the Hotel St. Gothard in Zurich and the Schwanen Restaurant in Lucerne. In 1950 he became the Sauce Cook at the Greenbrier Hotel in White Sulphur Springs, West Virginia. He later worked for the Park Plaza Hotel in St. Louis, Missouri, New York's Ambassador Hotel, The Gotham Hotel and the Sheraton East Ambassador Hotel all in New York. In 1961 he went to Tel Aviv, Israel to the Sheraton as the Executive Chef before returning to the United States in 1962 where he became the Executive Chef for the Homestead Resort with over 40 years of service. During that time, he published a cookbook entitled "Dining at the Homestead".
He was a veteran of both the Swiss Army and the United States Army.
He was married to the late Maxine Marie May Schnarwyler who preceded him in death on June 14, 2006.
He is survived by his daughter, Amanda Schnarwyler Harold and husband Zach; three grandchildren, Baylor Marie Harold, Grayson Miller Harold, and Bridger Mclean Harold; a sister, Ruthly Oberli of Lucerne; nieces and nephews Marcel and Rita; and special friend Barbara.
A graveside service will be held 2:00 p.m., Friday, June 24, 2022, at Emory United Methodist Church Cemetery with Father Steve McNally officiating.
Memorial contributions may be made to The Carrington Cottage Memory Care Center, 270 Commons Parkway, Daleville, Virginia 24083.