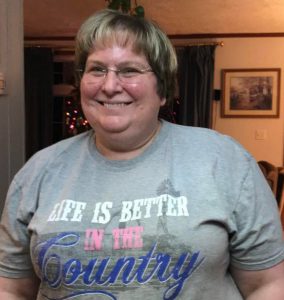 Annette Hepler Stover, 53, of Hot Springs, Virginia went to be with her Lord Friday, October 21, 2022, at her home.
She was born December 19,1968 in Bath County, the daughter of Lois Cassell Hepler and the late Paul Edwin Hepler.
Annette was employed as a housekeeping manager at Bath Community Hospital.
She was a member of Faith Covenant Family Church, who loved to cook, bake, and spend time with her grandchildren. She was a loving wife, mother, and grandmother.
Annette is survived by her husband, Joseph Brian Stover of Hot Springs; three children, Nathan Hepler & wife Emily of Westmoreland, New York, Rebecca Stover & husband Jeremy Clarke of Clifton Forge, Virginia, Joseph Paul Stover of Hot Springs; two grandchildren, Owen & Ryder Hepler; brothers, Mark Hepler and Timmy Hepler; and a sister, Rita McCune.
A memorial service will be conducted at 11:00 am Tuesday, October 25, 2022, at McLaughlin & Young Funeral Home with Pastor Steve Shaver officiating.
Memorial contributions may be made to the Doris Via Cancer Fund.
Arrangements are being handled by McLaughlin & Young Funeral Home.