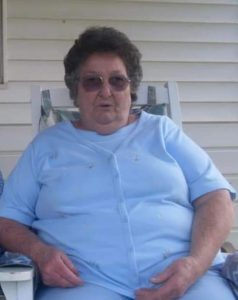 Ardie Rae Bradley Robertson, 85, of Warm Springs, Virginia passed away Wednesday, October 26, 2022, at Bath Community Hospital.
She was born August 25,1937 in Bath County, the daughter of the late William Marion Bradley and Lunora Messer Bradley. She was married to the late Charles Griffith Robertson.
Ardie was retired from Bacova Guild as an inspector.
She was a member of Starr Chapel Community Church for 80 years.  Ardie loved to cook and can. She was a loving mother, grandmother, great-grandmother, great-great grandmother & great-great-great grandmother.
Ardie is survived by her children, Glenn Robertson and wife Sherrill of Burnsville, VA, Robert "Bucky" Robertson and wife Kimm of Covington, VA, David Robertson and wife Susan of Covington, VA, Alice Walton of Clifton Forge, VA, Rachel Thompson of Winchester, VA, Myrna Davis and husband Walter "Buddy" of Warm Springs, VA, Brenda Robertson of Covington, VA, and Shirley Ingram and husband Guy of Millboro, VA; many grandchildren, great-grandchildren, great-great grandchildren, & great-great-great grandchildren; and numerous nieces and nephews.
In addition to her husband, she is preceded in death by a son, Charles "Bimbo" Robertson, Jr.; a daughter, Doris Anderson; a grandson, Eddie Carper; a granddaughter, Carla Jean Robertson; sisters, Sylvia Law, Rosie Cresswell, and Ida Fay Weese; and brothers Fred Bradley and Jesse Bradley.
A graveside service will be conducted at 2:00 PM, Saturday, October 29, 2022, at Jacob Cleek Cemetery with Pastor Buddy Davis officiating.
Memorial contributions may be made to Starr Chapel Community Church, C/O Betty Hicklin, PO Box 925, Hot Springs, Virginia 24445