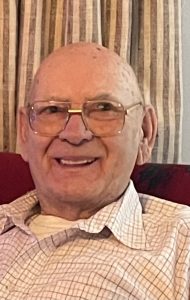 Arthur "Art" James LaFountain, 84, of Hot Springs, Virginia passed away Thursday, January 19, 2023, at the Roanoke Memorial Hospital in Roanoke, Virginia.
He was born April 9, 1938, in Plattsburg, New York. He was the son of the late Wilfred Joseph LaFountain and Eva Marie Rascoe LaFountain.
In his early years he was a member of the Local Labor Union #186 in Plattsburg, New York. He moved to Bath County and worked as a Blasting Supervisor for the Vepco Project. After the project was over, he worked in construction and became a caretaker on a local farm.
Art was a loving husband, father, and grandfather. He was an avid outdoorsman who enjoyed hunting Snowshoe Hares in New York with his beagles, fishing and farm work. One of his true passions was cutting grass and outdoor yard work. The entire neighborhood could always depend on Art to get their lawn looking just right.
He was preceded in death by his wife, Susan Jane Turner LaFountain; his parents; a daughter, Jo Ann Medina; and a brother, Clifford LaFountain.
He is survived by a daughter, Julie LaFountain Emery & husband Geoff of Blue Ridge, Virginia; grandchildren, Specialist 4th Class Samuel Ryder and Gabriel Medina; sisters, Jeannette Petrashune of Saranac, New York, Helen Underwood & husband Robert of Chazy, New York, Agnes Barber of Saranac, New York, and Teresa Bodah of Altona, New York; and a son-in-law, Miguel Medina of Richmond, Virginia.
A private funeral service will be held at a later date. Interment will be in Union Chapel Cemetery.
Memorial contributions may be made to Hot Springs Rescue Squad, P.O. Box N, Hot Springs, Virginia 24445.