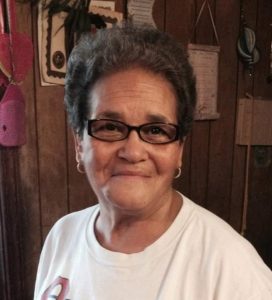 Carolyn Braxton Jackson, AKA "Honey", 77, of Pinehurst Heights, Hot Springs, Virginia passed away Tuesday, March 07, 2023, at Augusta Health Center in Fishersville, Virginia.
She was born May 15, 1945, in Bath County, Virginia, the daughter of the late Beverly Leon Braxton and Pattie Bedora Jackson Braxton.
As a young woman she developed her cooking skills in not only feeding her family of 7 but the neighborhood of cousins and friends. She developed these skills and furthered a career in cooking for a host of private families.
She also loved researching biblical stories and expounded on the topic as speaker in her home church, Piney Grove Baptist.
She was a loving wife, mother, grandmother and great grandmother.
She was married to the late Arnold N. Jackson, her husband of 29 years, whom she married on November 29, 1964.
She is survived by her children, Cindy (Harry) Scott of Richmond, Virginia, Kimberly Murphy of Fredericksburg, Virginia, Gerald of Hot Springs, Douglas (Courtney) of Blacksburg, Virginia, Christopher (LaShanda) of Rocky Mount, Virginia; 7 grandchildren, 7 grandchildren, Tyrone, Atlee, Shané, Caroline, Jade, Kariyia and Krysteena; 3 great grandchildren, Ayla, Jaxen, Oaklynn; a brother in law, Donald Mack; sisters-in-law, Gloria Braxton, Yvonne Lawrence, and Hazel Braxton; and a host of nieces, nephews, cousins and friends.
In addition to her parents and husband, she was preceded in death by a son, Arnold Jr., 1 sister, Phyllis Mack, 3 brothers, Charles, Roger, and Beverly Braxton, and 1 son-in-law Rensy Murphy.
A funeral service will be conducted at 12:00 noon, Saturday, March 11, 2023, at McLaughlin & Young Funeral Home with Bishop Tony Butler officiating. Interment will be in Pinehurst Cemetery.
Pallbearers will be friends at the service.
The family will receive friends 1 hour prior to services, from 11:00 a.m. to 12:00 p.m. at the funeral home.
Memorial contributions may be made to Piney Grove Baptist Church, P.O. Box 329, Hot Springs, VA 24445.