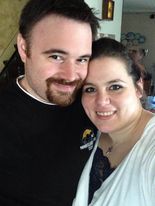 Carrie Ann Pierce Frye, 38, of Hot Springs, Virginia passed away Friday, February 4, 2022, at Bath Community Hospital.
She was born September 14, 1983, in Dunkirk, New York, the daughter of Kathleen Ann Kaus Pierce and the late Gerald Pierce.
Carrie was employed as a teacher's aide at Bath County High School, where she also coached the girls' softball team for 3 years, and everyone at the school called her the "School Mom".
She was a member of Healing Springs Baptist Church, where she helped with the youth group.  Carrie was a creative soul who loved to paint, draw, and do all kinds of crafts.
In addition to her mother, Kathleen Pierce, she is survived by her husband Adam Richards Frye; sister, Alexis Sarnoski and husband Joseph of Ft. Riley, Kansas; parents-in-law, Curtis and Cynthia Frye of Bristol, Virginia; a brother-in-law, Sean Frye and wife Amanda of Bristol, Virginia; special friends among many others, Rusty and Pam Bragg, Chase Davidson, and Chrisy Harmon.
A memorial service will be conducted at 2:00 p.m. Tuesday, February 8, 2022, at the Bath County High School auditorium with Reverend Richard Goforth officiating.
The family will receive friends one hour before the service from 1:00 – 200 p.m.
In lieu of flowers, memorial contributions may be to the Doris Via Cancer Fund, P.O. Box 174, Hot Springs, Virginia 24445 or the Bath County High School Athletics Department, 464 Charger Lane, Hot Springs, Virginia 24445.