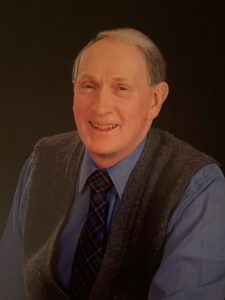 Dan Norman Perkuchin, 85, of Fishersville, Virginia passed away Saturday, November 11, 2023, at the University of Virginia Medical Center, Charlottesville, Virginia.
Dan was born February 7, 1938, in Pontiac, Michigan, the son of the late Peter Samuel Perkuchin and Hilda Phyllis Hickey Perkuchin.
Together with his wife, Merrie Jo, Dan owned and operated the Roseloe Motel in Hot Springs for 14 years and he was a technology teacher at Bath County High School for many years.
Dan was a fighter pilot in the United States Air Force, serving at the beginning of the Vietnam War. He was a birding enthusiast with a passion for genealogy who also enjoyed kayaking, square dancing, pickleball, and biking. Dan attended The Unitarian Universalist Fellowship in Waynesboro, was an associate member of the Bolar Ruritan Club, and a member of the Industrial and Commercial Ministries – Skyline Chapter. Dan was a loving husband, father, and grandfather. His loving heart leaves a beacon of light for all.
Dan is survived by his wife, Merrie Jo Perkuchin, whom he married on June 19, 1959; children, Broc Perkuchin of Arlington, Virginia, DeeAnn Perkuchin Lees and husband Dana of Chugiak, Alaska, Kara Perkuchin Menfi of Lake Monticello, Virginia, Bret Perkuchin and wife Amanda of Dover, Delaware; grandchildren, Kai Perkuchin, Lani Perkuchin, Amina Menfi, Andrew Perkuchin, Anna Perkuchin, and Aaron Perkuchin; brothers, Don Perkuchin and wife Carol of Bridgewater, Virginia, Ron Perkuchin and wife Janice of Livermore, California; and sister; Judith Nanney of Albuquerque, New Mexico.
A memorial service will be conducted at 2:00 p.m., Saturday, December 2, 2023, at Unitarian Universalist Fellowship of Waynesboro, 565 Pine Ave., Waynesboro, with Reverend Paul Oakley officiating.
Memorial contributions may be made to the Unitarian Universalist Fellowship of Waynesboro, 565 Pine Ave., Waynesboro, Virginia 22980, or the Augusta County Genealogical Society, P. O. Box 436, Fishersville, VA 22939.