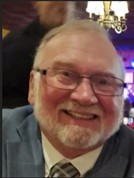 Please note – location of funeral has been changed – it will now be held at McLaughlin & Young Funeral Home (as opposed to a graveside at the cemetery)
Belleview, FL (Originally from Bath County, VA) –  Donald "Donnie" Greyson Carpenter went to be with our Heavenly Father and Savior on August 31, 2021.
He was born September 17, 1947 in Havre De Grace (Harford), Maryland, a son of the late Woodrow Herbert Carpenter and Helen Gay Williams Carpenter.
Donnie served with the U.S. Army in the Vietnam W ar.  After an honorable discharge from the Army, he returned home to Bath County VA and married his High School Sweetheart, Helen Jane Agner Carpenter. He was a proud and honored Veteran who spent most of his retirement volunteering for Vets Helping Vets and The American Red Cross.  Donnie enjoyed hunting and fishing, especially fishing with his son Chris in the Gulf of Mexico.  He was a member of the NRA and loved his guns.   Donnie retired from the Bath County Sherriff's Department after serving the Bath County community for many years, and also worked for The Bacova Guild and the National Forestry Service.
In addition to his Love and Best Friend, Gloria Robbins, family members include a Son, Christopher Carpenter and wife Sherry of Swoope, VA; a Granddaughter Sierra Carpenter Hicks and husband Logan of Huntsville, AL; a Sister Jan Lockhart and Bill Restivo of Toronto, Canada; nieces, Pam Ugan and husband Steven, Tammy Ryder and husband Charlie, and Amanda Harvey and fiancé Greyson Wolf; numerous great nephews and their families; sister-in-Law, Lynda Taylor and husband Jerry "Wimpy"; and Father-in-Law, Billy W. Hodge.
In addition to his parents, he was preceded to heaven by his wife, Helen Jane Agner Carpenter; a brother, Dennis Carpenter; a sister Sharon Harvey; a mother-in-law, Helen Tuke Hodge.
A Celebration of Life for family and friends will be held in Belleview, Florida at the home of Donnie and Gloria from 1pm to 4 pm on Saturday, September 18th, 2021.
A Celebration of Life of will also be held at 11:00 a.m. on November 6, 2021 at McLaughlin & Young Funeral Home with Pastor Donald Lee Altizer and Pastor Glen Stinnett officiating.
Donations may be made in lieu of flowers to Vets Helping Vets, 2730 E. Silver Springs Blvd, Ocala, FL 34478, www.vhv.org