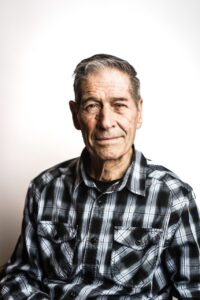 On Tuesday, September 14, 2021 a faithful man of God, Donald Leroy Fike, went home to be with Jesus.  He died of a heart attack at the Bath Community Hospital in Hot Springs, Virginia.  He was born April 18, 1933 in Chicago, Illinois.  In the first phase of his life he along with his beloved wife Shirley (Wine) Fike were missionaries in Ecuador and Puerto Rico, and later together pastored in Ohio, Indiana, and Maryland.  In the later phase of his life he married his amazing partner Susan Leigh Sarver Fike in Warm Springs, Virginia where they lived together.
Don was a spiritual father to countless. His dry wit and endless puns will be greatly missed by those who knew and loved him. He was happiest when chopping down trees or otherwise serving his neighbors, puttering in his garden, and working circles around those half his age.  Don was a restorer of relationships. He was a salt of the earth person, you'd have thought he was a farmer.  But he was a tiller of souls instead.
He is survived by his wife Susan Fike of Warm Springs, Virginia; children Doug & (Charlene) Fike of Washington, DC & daughter Wendy & (Eric) Good of Wylie, Texas; stepdaughter Anna & (Eric) Helmer of Chesapeake, Virginia, along with 10 grandchildren,10 great grandchildren as well as brothers Elmer & Jim Fike and sister, Juanita Fike.
He was preceded in death by his first wife Shirley & his daughter Wanda Cullison of Warsaw, Indiana, a brother Harold Fike & his parents Alva & Edna (Dunning) Fike.
A celebration of Don's life will be held at 2:00 on Saturday, September 18, 2021, at Warm Springs Presbyterian Church, 73 Church Drive, Warm Springs, VA. An additional celebration of life is planned for later this year in Goshen, Indiana.
Memorial contributions may be made to The Jesus Film Project, 100 Lake Hart Drive, Orlando, Florida 32832 or online at www.jesusfilm.org.
—