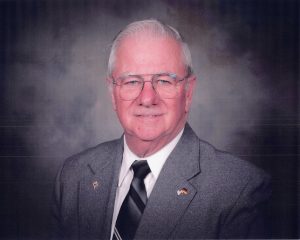 Sergeant Major Eddie H. Green, 84, born in Bath County, Virginia on August 29, 1938, died in Clifton Forge Virginia on April 16, 2023.
Sergeant Major Green was a highly decorated veteran of 30 years who was the recipient of the Bronze Star for bravery while serving his country in Vietnam.  The military was a perfect fit for his strength of body and mind.  His leadership came to the forefront, as he rose through the ranks ultimately reaching the highest enlisted rank of Sergeant Major.
Eddie Green was born to Andrew Given Green and Mary Woodzell Green.  In 1956, he joined the U.S. Army and was stationed at various locations throughout the world. While stationed in Germany, he met, then eventually married the love of his life, Christa Witlzer in 1960.   He retired from the military in 1986, then served another 10 years in the federal government as a civil servant.  He was a brave soldier who fought for our freedom and prepared countless young men and women to protect our honored way of life.
During his leisure time he enjoyed RV camping, traveling, and spending quality time with his family.  He was a true spiritual leader and connector of people with needs.  He would draw on an inexhaustible list of family and friends he had helped in the past to help others in need.
Eddie was a lifetime member of the local Veterans of Foreign War and active member of the Virginia Chapel United Methodist Church.
He is survived by this sons Clinton and Eddie Jr, his daughters Patricia Giddens and Delilah Bonnert; grandchildren Lauren Weldon, Kristina Weldon, Tristan Bonnert, Garrett Green, Evan Green, and Rebekah Giddens, four great grandchildren, numerous nieces and nephews including a special niece, Tracey Spangler.
He is also survived by his brothers Freddie, Jimmy and Jackie, his sisters Boo Boo Hansford, Peggy Layman, and Patricia Foutz, and a special friend Thelma Curtis.
He is preceded in death by his wife Christa.
He is now serving our Father in Heaven on the other side of the veil.  His faith was sure and his devotion true.  May his memory continue to bless all of us and inspire us to live as he did.
A funeral service will be held on 2:00 p.m., Friday, April 21, 2023, at Virginia Chapel United Methodist Church with Mike Spurgeon officiating.
The family will receive friends one hour prior to services from 1:00 -2:00 p.m. at the church.