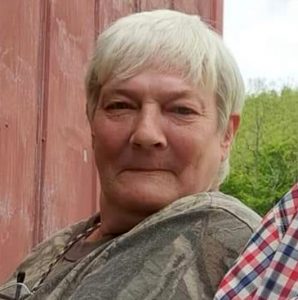 Hot Springs— Edith Jewell Brummitte, 62, of Warm Springs, Virginia passed away Monday, October 18, 2021, at Roanoke Memorial Hospital.
She was born July 15, 1959, in Bath County, the daughter of the late Peter Joseph Baldwin Jr. and Nina Frances Baldwin.
She was formerly employed as a maid at the Homestead Resort, worked at Bacova Guild, and part-time at the Village Roost.
She enjoyed fishing, camping, hunting, and playing cards, especially poker. Her grandchildren were the light of her life. She treasured spending time with them. She was a loving mother, and grandmother. She was a fun-loving jokester who loved to make people laugh. She never met a stranger.
She is survived by two sons, Robert Baldwin and special friend Crissy Smith of Warm Springs and Christopher Brummitte and special friend Melissa Baker of Scott County, Virginia;  grandchildren, Jayden, Braxton, Dakota, Ashley, James, and William Brummitte,  Tyler Hill, Joseph and Landon Keaton; two brothers, Richard and Danny "Boone" Baldwin both of Hot Springs; six sisters, Arlene Meade of Scott County, Carolyn Hise & friend John Hart, Diana Shifflett & husband Hugh, and Debbie Baldwin all of Hot Springs, Mary Simmons of McDowell, Virginia, and Phyllis Lindsay & husband Robert of Hot Springs.
She was preceded in death by her husband, Larry Brummitte; two stepson's Adam Brummitte, and David Brummitte; and step-daughter, Amanda Hill.
A Celebration of Life will be held at a future date.
Friends may call at the home of Phyllis and Robert Lindsay, 2634 Sam Snead Hwy, Hot Springs, Virginia, or call 540-839-5122 at any time.