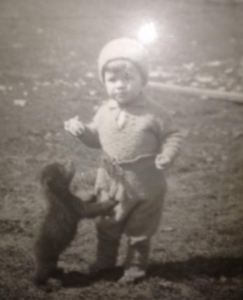 Edward "Tink" Decatur Lowman, Jr., 92, of Henrico, Virginia passed away after a long and very healthy life, on Sunday, February 20, 2022, at VCU Medical Center in Richmond.
He was born June 29, 1929, in Hot Springs, Virginia, the son of the late Edward Decatur Lowman, Sr. and Grace Ethel Miller Lowman. Dad as a boy, worked for his father at Lowman's Meats and Delicacies in downtown Hot Springs suppling foods to the hotel guests, staff and locals. Lowman's was quite the hub for all going on in Hot Springs in the day. Tink went to Valley High in Bath County where he proudly played center for the Bath County Hornets in 1947 – 48.  He spent his senior year at Augusta Military Academy from where he graduated. Dad then attended Richmond Professional Institute, which was a division of William and Mary. As a sophomore in college dad entered the Airforce where he serviced radios on the B-29 Super Fortresses.
After Dad's service in Korea, he returned to RPI to finish out his senior year where he met Meredith Klees with whom he married and had his children, Missy and Chip.
Ed retired from retail having worked at Thalhimers Department Store as a corporate buyer for 33 years.  Carter Hawley Hale acquired Thalhimers and offered Ed a position which he accepted working out his final career years as the Director of Corporate Purchasing in California.
Dad's passion was scouring the auctions, yard sales and estate sales for antiques. Antiquing was always on dad's mind. Tink loved to search the back roads of America from coast to coast for items of yesteryear. He would breathe new life into his "finds "and display them at Country Boy Antiques. Dad had several booths in the Gordonsville Antique and Flea in Gordonville, Virginia which he was working until his final days. For several years dad would also do shows at the Fishersville Expo, both the spring and fall shows under the name of "Country Boy Antiques" making new friends at every show.  He would work his booths telling potential customers the history of his "finds".
He is survived by two children, Melissa "Missy" Lowman Albanese & husband Tom, and Edward "Chip" Decatur Lowman III & fiancé Deborah Eldridge all of Henrico.
He was preceded in death by sister, Sue Trimble & a brother-in-law, John Trimble.
A visitation will be held in Richmond at Bliley's Funeral Home on Augusta Ave., Friday, February 25, 2022 from 5:00 – 7:00 p.m.
A graveside funeral service in Hot Springs will be conducted at 11:00 a.m., Saturday, February 26th  at the Warm Springs Cemetery with Reverend Richard L. Butcher officiating.
Memorial contributions may be made to the Bath County Historical Society, P.O. Box 212, Warm Springs, VA 24484.