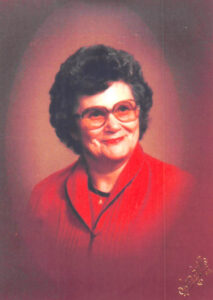 Emma Leona Thacker was born July 2, 1928.  She was the second born daughter to Charles Hopkins Thacker and Emma Margaret Hodge Thacker of Hot Springs, Virginia.  She had five siblings total, Thelma McComb her older sister, Charlotte May and husband Walker, Lloyd Thacker and wife Bonnie, Josephine Thacker, and Helen Baldwin and husband Ed.
She grew up in Mitchelltown just north of Hot Springs, VA.  She attended elementary school at Mitchelltown Elementary and graduated from Valley High in 1945.  Leona really enjoyed playing basketball in her 4 years of high school.  She was a forward for the Queen Bees team and was the team captain her senior year.
At the age of sixteen, she married the love of her life, Lonnie Caldwell Altizer.  Together they had five children.  Sadly, their first child, Leona Ann passed away only hours after birth in 1946.  Their remaining four children and year of birth are Iona Dale in 1947, David Caldwell in 1948, Donald Lee in 1950, and Joyce Darlene in 1957.  The birth of these children marked the beginning of an everlasting legacy.  Her four surviving children bore her 11 grandchildren.  Iona had a daughter and a son, Annette Loan and Bobby Thomas Jr.  David had three sons, David Jr., Tracy, and Lonnie Altizer.  Donald Lee and Linda Altizer had three sons and a daughter, Donald Lee Jr., Joey, and Matthew Altizer and Melinda Turner.  Joyce and Wayne Ellinger had a son and daughter, Jonathan Ellinger and Michelle Dressler.
Her eleven grandchildren gave her 32 great grandchildren, Kimberly Martin, Greg Loan, Skyler, Emmalee, and Elaina Ellinger, Hunter and Noah Harmon, Samuel Paul, Kayleigh Mae, and James Kenneth Dressler, Cheyanne Armentrout, Andrew, Luke, Nathaniel, and Myles Turner, Donald Lee III, Savannah, Jake, Taylor, Genna, Nikki, Tiffany Leona, Isaac, Hunter, Lyric, Player, Enzy, Sossi, Asa, Ayden, John and Eli Altizer.  She also has several nieces and nephews.  She came to be known as "Granny" by hundreds of kids and grown-ups throughout the county and country.
A rarity, she has seven great, great grandchildren, Kayton Lynn, Ariel Nicole, Brentley Mark, and Lynnleigh Grace Altizer, Raegan Wilder Lowry, Zoey Ann Fullen, and Austin Jacob Martin.
She had a special nephew in Kenneth Roy McComb, special friend in Clarice Rodgers and a special grandson, Joey Altizer.
While her husband Lonnie was working on the railroad and later in life at VA. Hot Springs, Inc., Leona was busy being a homemaker and wife but also babysitter-caretaker-and best friend to Ralph and Edna Helmintoller, as well as waitress at The Cascades Inn, till its closing due to her retirement (not really but maybe) in 1993. She suffered a heart attack in 1992 and attended the Cardiac Rehab Program at Bath County Hospital for the next 10 years.
Over the years of raising her children, grandchildren, great and great, great grandchildren, she strived to give the family strength and core values.  She set a strong example to her family by her faith in God, love of family, strong morals, and her dedication to Virginia Chapel United Methodist Church where she had been a member since July of 1945.  She was very active in sports, especially basketball and baseball.  She is the all-time leading spectator of both sports in Bath County.  She always kept her own scorecard with paper and pencil.  She has passed down years of knowledge that future generations will benefit from in family, spiritual strength, common sense, sports and country living.  She was known throughout the family and community as an excellent cook.  Her Sunday dinners bonded a family together in a way that will never be forgotten nor taken for granted.  They are treasures that live in the hearts of the beautiful family that she raised.
She has lost many family members over the years.  Most notably are her Parents, Charles and Margaret and her Husband of 49 years, Lonnie C. Altizer, who she stood by through the many trials of life and the cancer that ultimately took his life. She also had the loss of her Daughter – Leona Ann, Sisters – Thelma McComb, Charlotte May, Helen Ruth Baldwin, Josephine Thacker, and Brother – Lloyd Hopkins Thacker, Great-Granddaughter – Stephanie Lynn Altizer, Nephew – James McComb, and Brother-n-Laws – Arnold McComb and Ed Baldwin.
On August 30, 2021, Emma Leona Altizer took the final step to everlasting life into Heaven to be reunited with her husband, daughter, and other loved ones she has lost from this world.  Future generations of this family and others that this family impacts will carry on the influence that Leona Altizer brought to life with her kind heart, wisdom, and loving ways.  The world is truly a better place because of her.
A Celebration of Her Life will be held at 2:00 p.m., Friday, September 3, 2021, at McLaughlin & Young Funeral Home with Pastor Donald Lee Altizer, Pastor Sang Lee, and Pastor Zach Royer officiating. Interment will be in Jacob Cleek Cemetery. Pallbearers will be Bobby Thomas, Jr., David Altizer, Jr., Tracy Altizer, Lonnie Altizer, Donnie Altizer, Joey Altizer, Matthew Altizer, Jonathan Ellinger.
The family will receive friends Thursday, September 2, 2021 evening from 6:00 – 7:00 p.m. at McLaughlin & Young Funeral Home; or anytime at the home of Joey & Mary Altizer at 146 Forestry Road, Hot Springs, Virginia.
At Granny's request, in lieu of flowers, you may send donations to Virginia Chapel Church Memorial Fund, c/o Sue Phillips, P.O. Box 251, Warm Springs, Virginia 24484.