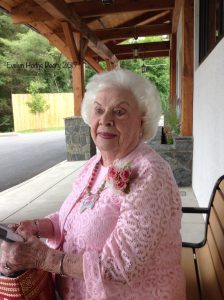 Evelyn Hodge Peery, 99, passed away peacefully on Sunday, January 22, 2023.
She was born in Warm Springs, Virginia, the daughter of Clara Louise Stinnett Hodge and Willie Gratton Hodge. She had one sister, Ruth Hodge Cleek, who preceded her in death in 2021.
After graduating from Valley High School in 1941 she worked for the Homestead Hotel as a telephone operator. In 1943, she joined the US Coast Guard and was trained at Hunter College in New York as a Communication Specialist.
She was assigned to the US Customs Office in Boston, Massachusetts, and later to the Coast Guard Airbase in Salem, Massachusetts as part of the World War II effort. She worked in a top-secret unit to decode messages from offshore enemy submarines. Mrs. Peery had the distinction of being one of the oldest surviving WWII veterans in Bath County.
In 1944, she received an honorable discharge and returned to her beloved Bath County and married, Richard F Peery, also a World War II veteran, who preceded her in death in 1981.
She is survived by her two children, Lynn Ellen Kirsch (Michael Kirsch), Westport, Connecticut, and Michael F. Peery (Carolyn Day) Simpsonville, Kentucky; six grandchildren, Abigail McCrosky, Stephen Peery, Matthew Peery, Jonathan Cox, Susan Wilkinson, and Melissa Kirsch; nine great grandchildren, Grayson McCrosky, Everly Peery, Emilia Peery, Parker Peery, Reagan Peery, Logan Peery, Evelyn Cox, Austin Cox, and Emma Wilkinson. To all her grandchildren she was known as "Nanny".
Mrs. Peery was a devoted homemaker and mother. She later worked for William E. Allen Jeweler at the Homestead Hotel and the Irish Express in Hot Springs.
She had many friends and interests. She was a devoted member of the Ashwood United Methodist Church, where she sang in the choir, and often did solos with her beautiful soprano voice. She taught Sunday School and was a Lay Leader. For over 20 years, she provided and arranged the flowers for the altar every Sunday. She was an avid gardener and member of the Hot Springs Garden Club. A dedicated veteran, she was a member of the Hot Springs American Legion Post #92 and the VFW Ladies Auxiliary Post #4204. She was proud to have served as the 2018 Parade Marshall in the Hot Springs Christmas Parade. She greatly enjoyed cooking and loved sharing her special recipes. She enjoyed sewing, knitting and needlepoint, creating many items for family and friends. Mrs. Peery will be remembered for the kindness she showed to everyone and for her devotion as a loving wife, mother, and adoring Nanny to her grandchildren. She will be missed by all who knew her.
A graveside service will be held 11:00 a.m., Thursday, January 26, 2023, at Warm Springs Cemetery. A Memorial Service and Celebration of Her Life will be held on what would have been her 100th Birthday at 11:00 a.m., Saturday, March 18, 2023, at the Ashwood United Methodist Church. In lieu of flowers, donations may be made in her honor to Hot Springs Fire and Rescue, P.O. Box N, Hot Springs, Virginia, 24445.