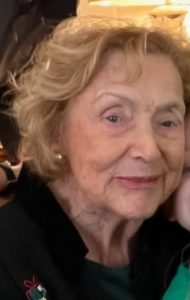 It is with heavy hearts that we mourn the loss of Gertrude Hutchens Worsham, a devoted mother of four, a loving wife and a cherished member of her church and community. Gertrude passed away peacefully surrounded by the love of family, friends and the staff at Season's Place on November 19, 2023. She was predeceased by her husband of 62 years, William, and her daughter, Cheryl.
Born in Logan, West Virginia on October 27th, 1927, Gertrude was a remarkable individual whose life radiated love and compassion. Her profound commitment extended not only to her family but also to her church community. As a devout member Gertrude gave of her time and energy to various charitable initiatives, community outreach programs, and providing solace to those in need. Her faith was a guiding light in her life, shaping her compassionate nature and her selfless dedication to serving others.
Gertrude's legacy of love, faith, and passion for life will forever resonate in the hearts of those she touched. Her kindness, generosity, and unwavering commitment to her family, her church, and her passions will long be remembered.
She will be deeply missed by her children, Brenda (Dee), Scott (Christine) and Patrick (Jane); her grandchildren, Joseph (Sarah), Marie (Mark), Malcom and Wesley; her great-grandchildren, Bradley and Juliet; her extended family, her church community, and numerous others whose lives she touched. Let us honor her memory by embracing her values and continuing her legacy of compassion, service, and joy in the simple pleasures of life.
Funeral services will be held at St. Charles Borromeo Catholic Church in White Sulphur Springs, West Virginia on Saturday, November 25th at 11:00am. A reception will follow in the church hall. A private burial will follow at a later date.
In lieu of flowers, donations can be made to:
St. Charles Borromeo Catholic Church, 40798 Midland Trail E, White Sulphur Springs, WV 24986 or Hospice of the Greenbrier Valley, 223 Maplewood Ave, Lewisburg, WV 24901  in memory of Gertrude Worsham.
May Gertrude's soul find eternal peace, and may her memory be a blessing to us all.