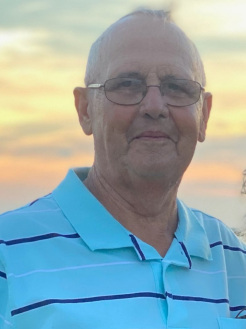 Hot Springs –  On July 8, 2021, at the age of 74, Glenn Houston "Candy" Criser of Warm Springs, VA, passed away peacefully at Bath Community Hospital in Hot Springs, VA. Glenn was a wonderful husband, father, grandfather, great-grandfather, friend, and neighbor. At the time of his passing he was surrounded by his devoted wife and loving children. Over the last 26 years, Glenn was a four-time cancer survivor of both liver and pancreatic cancers.  His liver, extensively damaged by complications of his treatments through the years, eventually caused his death. His battle with serious medical issues in recent years showed his courage in facing life challenges with a smile. Despite the illness, Glenn came out a hero and stayed strong until the end.
Born in Clifton Forge, VA in December 1946, he was the son of Houston and Maxine Criser, both who preceded him in death. Glenn attended Bath County schools where he met the love of his life, Linda Carpenter Criser, in seventh grade. They graduated from Valley High School in 1965 and were married the following year. After high school, Glenn was employed at Mead Westvaco in Covington, where he retired after over 30 years.  While employed, he was active in the union and served on union negotiating committees.  He was also active in the fire brigade. 
Glenn was a long-standing member of Ashwood United Methodist Church where he served as trustee and was active in the men's group. He was active with Meals on Wheels delivery where he loved to visit with the recipients. He was a member of the Preservation Committee, helping to preserve the historical landmarks of the County, and was a member of the Warm Springs Sanitation Commission where he served as Chairman for many years. 
Glenn loved Bath County and cherished its people, history, mountains, and streams.  He loved to hunt and fish and was always happiest outdoors. Extremely easy-going, Glenn never met a stranger, and was always quick to offer directions, advice, and friendly conversation. Glenn will be remembered for his great love of his family and grandchildren, his teasing jokes and sense of humor, his unfailing work ethic, his generous testimony to the power of prayer, and his willingness to help a friend or neighbor with whatever job needed to be done.
His memory will be cherished and kept alive by his loving wife of 54 years, Linda Carpenter Criser; his children, daughter, Pam (Criser) Ginger and husband Mike of Gainesville, VA; son, Troy Criser and wife Sara, also of Gainesville, VA; his five grandchildren, Connor Ginger of Glendale, CA, Kiley Ginger and Kenzie Ginger of Gainesville, VA; Carson Grace and Chase Criser of Gainesville, VA, one great-grandchild, Gianna Ginger, and a second great-granddaughter due to be born in September. He is also survived and will be greatly missed by his only sister, Claudia (Criser) Guard of Springfield, VA, and numerous nieces, nephews, and mother-in-law, Florence Lindsay of Hot Springs, VA.
The memorial service will be held on Sunday, July 11, 2021, at 3:00 pm at McLaughlin-Young Funeral Home in Hot Springs, VA, with the graveside burial to follow. The family will receive visitors beginning at 2:00 pm, one hour prior to the funeral. 
Pallbearers will be Tracy Phillips, James Ailstock, Carl Cleek, Jeff Cleek, Dan Jenkins, Marty Plecker, John Pound, and Don Ryder. Honorary pallbearers are Charlie Hamilton, Wayne Hiner, Lonnie Martin, Dr. Jim Redington, and Dan Shelton.
Glenn's family requests that in lieu of flowers, people make tribute donations to either Ashwood United Methodist Church, PO Box 98, Hot Springs, VA 24445 or to the Hot Springs Rescue Squad, PO Box N, Hot Springs, VA, 24445.
The family wishes to thank Dr. Redington as his primary physician; Dr. Crosby, Ambra Nida, Cindy Mann at Bath County Hospital and each and every nurse, nurses' aide, and the cafeteria personnel who made this difficult journey more bearable. What a wonderful facility to have in our small town!
Arrangements are being handled by McLaughlin & Young Funeral Home. Online condolences may be made at www.mclaughlinandyoung.com.