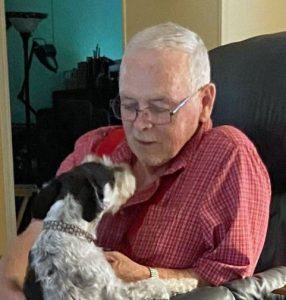 Harold Lee Sparks, 72, of Mountain Grove, Virginia passed away Wednesday, July 20, 2022, at LewisGale Alleghany Hospital in Low Moor, Virginia.
He was born September 11, 1949 in Sutton, West Virginia, the son of the late Fred Bernell Sparks,  Freda Ilene Smallwood Sparks Ottinger and Albert Clayton Ottinger.
Mr. Sparks was a retired truck driver.
He was a 1967 Graduate of Waynesboro High School. He was an avid outdoorsman who enjoyed camping, hunting, and fishing. He was a loving husband, father, grandfather, and brother.
He is survived by his wife of 23 years, Deborah "Debbie" Sue Peery Sparks whom he married on October 24, 1998; two children, Janet Lee Quinones & husband David of Germantown, Maryland, James Ernest Sparks & Fiancée Angela Graves of Buena Vista, Virginia; five grandchildren, Tori, Katie, Kayla, Hannah, Rachel & husband Guy; two great grandchildren, Beau, and Kara; a brother; Albert Clayton Ottinger, Jr. & wife Cheryl of Waynesboro, Virginia; two sisters, Sarah Wood of Waynesboro, & her sons, Aaron Coffey and Ashley Marion both of Waynesboro, Lindy Anderson of Florida; an aunt, Fern McClung in Nicholas County, West Virginia; numerous nieces, nephews, and cousins; and his companion Schnauzer, Molly.
A memorial service will be conducted at 2:00 p.m., Tuesday, August 2, 2022, at McLaughlin & Young Funeral Home with John Young officiating. Interment will be in Mountain Grove Cemetery.
The family will receive friends one hour prior to services from 1:00 – 2:00 p.m. at McLaughlin & Young Funeral Home.
Memorial contributions may be made to Mountain Grove Volunteer Fire Department, c/o William "Willie" Jenkins, P.O. Box 312, Warm Springs, Virginia 24484.