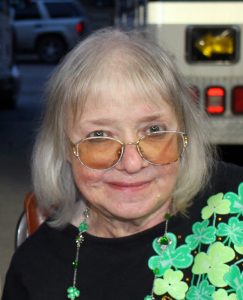 Hazel Ann Hoover Jarrett, 71, of Hot Springs, Virginia passed away Thursday, August 24, 2023, at her residence.
She was born March 12, 1952 in Bath County, Virginia, the daughter of the late Victor Dow Hoover and Phyllis Irene Altizer Hoover.
Hazel retired from the Homestead Resort after 49 years of service where she worked as a Switchboard Operator, Reservations Department, babysitting, and the front desk. She loved to work, spending 7 years part-time as a CNA at the Springs Nursing Center while holding down her full-time job at the Homestead.
She was a member of Ashwood United Methodist Church and the Bath County Lions Club. She was a very dedicated lifetime member of the Hot Springs Rescue Squad, never missing any fund raiser or training class.
She is survived by her husband, Wyatt "Willie" Gilbert Jarrett her husband of 35 years whom she married on December 2, 1987;  a sister-in-law, Barbara Pritt of Hot Springs; her German Shepherd, "Mirage", her Blood Hound, "Ellie Louise", and "Ottis" the cat.
A funeral service will be conducted at 7:00 p.m., Thursday, August 31, 2023, at Hot Springs Fire & Rescue Building with Reverend Andrew Baek officiating.
Memorial contributions may be made to Hot Springs Rescue Squad, P.O. Box N, Hot Springs, Virginia 24445.