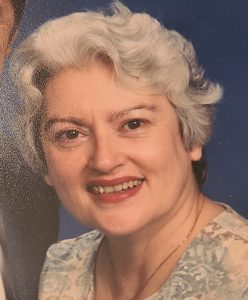 Helen LaPierre Grimes, 86, of Zephyrhills, Florida passed away Tuesday, March 28, 2023, in San Antonio, Florida.
She was born February 23, 1937, in Washington DC, the daughter of the late Joseph Aime LaPierre and Lillian May LaPierre.
On May 12, 1956, she married Richard Grimes, her husband of 66 years.
Mrs. Grimes worked for Hartford Insurance as a TAB Coordinator with 29 years of service. She loved her family dearly, adored her pets, and enjoyed gardening.
She is survived by her husband, Richard Grimes of Zephyrhills; and a daughter and son-in-law, Thelma (Christine) Grimes Slawson and Harry (Chuck) F. Slawson, Jr. of San Antonio, Florida.
A graveside funeral service will be held 11:00 a.m., Monday, April 3, 2023, at the Warm Springs Cemetery with Father Tom Collins as the Celebrant. The family will receive friends from 2:00 – 3:00 p.m., Sunday, April 2nd at McLaughlin & Young Funeral Home.
Memorial contributions may be made to American Cancer Society, P.O. Box 7262, Hillsborough, NJ 08844 or to the Pasco County Hospice in Zephyrhills, Florida.
Online condolences may be made at www.mclaughlinandyoung.com