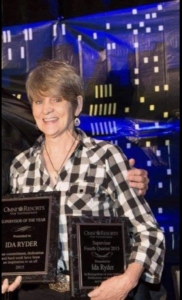 Ida Marie Black Ryder, 61, of Hot Springs, Virginia passed away Saturday, October 15, 2022, at Bath Community Hospital in Hot Springs.
She was born March 24, 1961, in Bath County, Virginia, the daughter of the late Vestia Palmer Black and Lucille Marie Pritt Black.
Ida was the manager of the shooting club for the Omni Resort Hotel. She was a loving mother and grandmother who enjoyed fishing, gardening, and working in her yard. She loved to go to yard sales. Her biggest joy was her grandchildren. She was a 1979 graduate of Bath County High School.
She is survived by a daughter, Allyson Brooke Ryder of Hot Springs; four grandchildren, Bryson, Kinlee, Addie and Torren; two brothers, David Black and wife Kathy of Covington, Virginia, Billy Black and wife Tammy of Roanoke, Virginia; a sister, Linda Woodzell and Fiancé Charlie Sybenstricker of Hot Springs; several nieces, nephews and cousins; and special friends David Judah, Deb Mills and Tracey Doyle; mother-in-law & father-in-law, Jenny Martin & Lonnie Martin.
She was preceded in death by a sister, Virginia Brown, and a brother, Palmer Black.
A funeral service will be conducted at 2:00 p.m., Monday, October 24, 2022, at Virginia Chapel United Methodist Church with Reverend Sang Lee officiating.
Friends may call anytime from 3:00 – 6:00 p.m. at the home of Linda Woodzell on 68 Triple Oak Lane, Hot Springs.
In lieu of flowers, contributions may be made to her grandchildren.