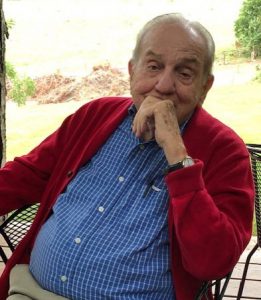 Jack Newton Williams, age 101, of Millboro, Virginia passed away Sunday, May 1, 2022, at Bath Community Hospital in Hot Springs, Virginia.
He was born September 8, 1920, in Turtle Creek, Pennsylvania, the son of the late Harper Ward Williams and Belle Andrews Williams.
Jack left Turtle Creek at a very young age and moved with his parents to Cuba. He returned to the United States living in Ashwood as a youngster speaking very little English. His first job was washing dishes at the Cascade Inn, where he developed a love of golf.  He later became a caddy at the Upper Cascades and played on the Goat Course with many of the well-known local golf greats. Jack was a 1936 graduate of Valley High School and then entered VMI as a RAT Cadet at the age of 16.  He transferred to UVA and went to Med School at MCV. After returning to Hot Springs, Jack become the pharmacist at The Pill Box in the Homestead Resort. Within a few years he opened Mountain Pharmacy and soon thereafter acquired the Hot Springs Pharmacy where he would spend the next 59 years serving the Bath Community with love and generosity. In retirement, Jack enjoyed mowing his lawn and entertaining guests on the porch of the Jarman Camp. Bath County Meals on Wheels was his passion for many years. He will be missed by the town that loved him dearly.
He is survived by two children, Ann Drew Williams and Randall Reed Williams both of Millboro, Virginia.
In addition to his parents, he was preceded in death by his wife, Joanne Emmaline Hash Williams, his wife, Thelma Allen Williams; a son, Allan Williams; an infant son, Lee Williams; a grandson, Ryan Williams; a sister, Marjorie Fultz; a brother, Bruce Williams.
A Celebration of Life will be conducted at 1:00 p.m., Tuesday, May 17, 2022, McLaughlin & Young Funeral Home with a reception to follow at the Warm Springs Inn. This is a casual event; Jack would want you to "come as you are". A private interment will be at a later date in the Warm Springs Cemetery.
In lieu of flowers, Jack would love for you to support our local rescue squads, The Bath County Emergency Fund, and the Doris L. Via Cancer Fund.