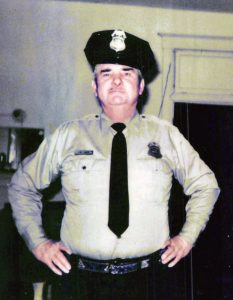 James "Cowboy" William Gwin, 86, of Hot Springs, Virginia passed away Sunday, November 28, 2021 at Bath Community Hospital.
He was born November 15, 1935, in Bath County, Virginia, the son of the late Cecil Gwin and Alice Ryder Gwin.
He was employed with the Homestead Resort in the Golf Course Maintenance for 30 years. Later he worked in the security department until his retirement. Mr. Gwin was known as the "golf man", he loved walking along the golf course and collecting golf balls. He enjoyed playing the guitar. He loved to sit on the bench in front of the post office and bank while visiting with his friends and guest from the Homestead.
He was married to the late Sadie Marie Thomas Gwin whom he married on February 12, 1958. She preceded him in death on July 8, 2000.
He is survived by five children, Glenna Haynes of Covington, Virginia, Joyce Johnson of Hot Springs, Darlene & "Bimbo" Pritt also of Hot Springs, Richard Gwin & wife Linda of Roanoke, Virginia, and Debra Gwin of Popano Beach, Florida;  seven grandchildren, Pamela Chittem, Phillip Johnson, Joey Pritt, Katie and Danny Gwin, Amanda and Travis Gwin; three great grandchildren; a sister, Mildred Phillips of Baltimore, Maryland; and several nieces, nephews and cousins.
In addition to his wife, he was preceded in death by son, Jessie Gwin; a son-in-law, Eddie Johnson; two brothers Lawrence and Arnold Gwin; and a sister, Margie Simmons.
A funeral service will be conducted at 1:00 p.m., Thursday, December 2, 2021, at McLaughlin & Young Funeral Home with Pastor Donald Lee Altizer officiating. Interment will be in Warm Springs Cemetery.
Pallbearers will be Travis Gwin, Joey Pritt, Bimbo Pritt, Richard Gwin, Georgie Lindsay, Bobby Bogan, Danny Gwin
The family will receive friends one hour prior to services from 12:00 p.m. – 1:00 p.m. at McLaughlin & Young Funeral Home or anytime at the home of Joyce Johnson.
Memorial contributions may be made to Bath Animal Welfare Foundation, Box 716, Hot Springs, Virginia 24445; or Bath County Meal on Wheels, Make check payable to Valley Program for Aging Services, P.O. Box 817, Waynesboro, Virginia 22980.