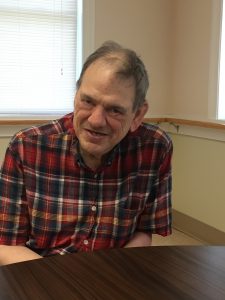 James "Jimmy" Andrew Strasser, 73, of Buena Vista, Virginia, passed away Sunday, October 17, 2021 at KENDAL at Lexington, Virginia.
He was born June 28, 1948 in Hot Springs, Virginia, the son of the late Jack W. Strasser and Jane Hepler Strasser. In addition to his parents, Jimmy was preceded in death by a brother, John L. Strasser.
Jimmy is survived and lovingly remembered by his sister Joyce Campbell and husband Dallas of Barboursville, West Virginia; brother Jerry W. Strasser and wife Margie of Madison, Alabama; sister Jeannette S. Vickers and husband Phil of Pearisburg, VA; brother Jeff Strasser and wife Kathy of Hot Springs, VA and many other extended family members.
Jimmy's family would like to express their deep appreciation to the staff of Rockbridge Area Community Services (his Rockbridge family) in Lexington and Buena Vista for their dedicated, compassionate, and loving caring of Jimmy for over 25 years. The family would also like to thank the staff of both KENDAL at Lexington and Rockbridge Area Hospice for the care they provided in his final days.
A graveside service will be conducted at 2:00 p.m. Wednesday, October 20, 2021 at Warm Springs Cemetery, Warm Springs, Va.