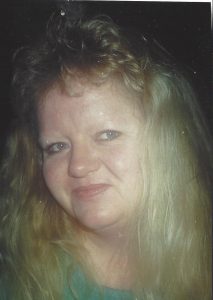 Karen Sue Carter, 59, of Hot Springs, Virginia passed away Monday, January 3, 2022, at her residence.
She was born June 27, 1962, in Covington, Virginia, the daughter of the late Leonard Lee Carter and Lettie Mae Peery Cauley.
After high school she went to work with the US Forest Service and later became a CNA for Home Health. She later worked at the Homestead as a Dispatcher and delivered papers for the Virginian Review. She was employed with Westvaco WestRock. She enjoyed painting, drawing, and reading.
She is survived by her mother and stepfather, Lettie Mae & Hubert Thornton Cauley; a brother; Dennis Carter of Hot Springs; a sister, Tracie Baldwin & husband Tommy of Hot Springs; a nephew, Billy Lee Baldwin; special cousins, Justin & Carolyn Lindsay, Alex Lindsay, and Susan Gwin; her beloved dogs, Ziggy & Dixie; special friends, Debbie Curtis and Lester Jeter.
She was preceded in death by her father, Leonard Carter; uncles, Clarence Peery & Larry Carter; her aunt, Patricia Stover; and a cousin, Billy Stover.
A memorial service will be conducted at 2:00 p.m., Friday, January 7, 2022, at McLaughlin & Young Funeral Home with Pastor Billy Robertson officiating.
The family will receive friends one hour prior to services from 1:00 – 2:00 p.m. at the funeral home.
Memorial contributions may be made to the Hot Springs Rescue Squad, P.O. Box N, Hot Springs, Virginia 24445 or Sinking Springs Church, Sinking Springs Presbyterian Church, c/o Wayne Peery, 533 Peery Hollow Road, Hot Springs, Virginia 24445.