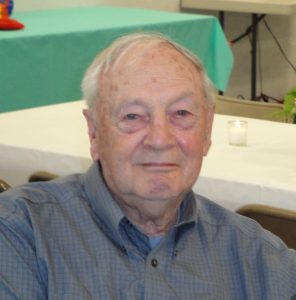 Kenneth Lee Robertson, 93, of Staunton, Virginia, formerly of Warm Springs, Virginia, went to be with the Lord on April 7, 2023, from Brookdale Assisted Living.
He was born August 18, 1929, in Warm Springs, Virginia, the son of the late Edna Lee Robertson.
On October 29, 1955, he married the love of his life, Mona Hammer Robertson who preceded him in death on July 30, 2011.
Kenny served his country in the United States Army during the Korean War. He was the Farm Manager for HH Dice Stock Farm in Warm Springs for over 40 years. He was a faithful member of Starr Bolar United Methodist Church for many years. He joined the church in 1949 and during the years he held numerous positions including Administrative Board Chairman, Lay Speaker, building projects, and Sunday School Teacher.
He was a member of the Bolar Ruritan Club which he joined in 1958 and held many positions. He was recognized for his lifelong service to the club by naming the meeting hall in his honor. He provided many hours of service during the Maple Festival and the Ham Shack for the fair.  He also served as an officer for the Highland County Fair Association. In 1976 he was awarded the Outstanding Conservationist in the Mountain Soil and Water Conservation District composed of Highland, Bath and Allegheny. He was a member of the Bolar Volunteer Fire Department and volunteered with the Bath County Christmas Mother packing food boxes.
He is survived by his granddaughter, Tracey McCray and husband Michael of McDowell, Virginia; sisters, Nancy Hodge of Hot Springs, Virginia, Mary Lindsay & husband Jim of Warm Springs; a step daughter-in-law, Linda Scaboo.
In addition to his wife, he was preceded in death by a step-son, Nicholas Scaboo; a brother-in-law, Lonnie Hodge and a foster sister, Dorothy Ratcliff.
A funeral service will be held 2:00 p.m., Tuesday, April 11, 2023, at McLaughlin & Young Funeral Home with Pastor Buddy Davis and John Young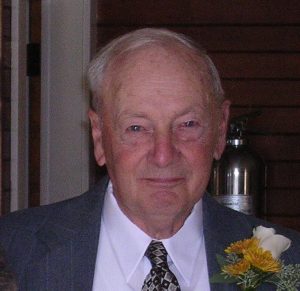 officiating. Interment will be in Warm Springs Cemetery. Pallbearers will be Bill Bratton, Danny Rexrode, Frankie Hicklin, Buddy Hunt, Rodney Leech, Norman Bell
Honorary Pallbearers Jim Lindsay and Jim Armstrong.
The family will receive friends one hour prior to services from 1:00 – 2:00 p.m. at the funeral home.
Memorial contributions may be made to the Bolar Volunteer Fire Dept, 21271 Sam Snead Highway, Warm Springs, Virginia 24484 or to the Bolar Volunteer Rescue Squad, 1099 Robinson Lane, Warm Springs, Virginia 24484.