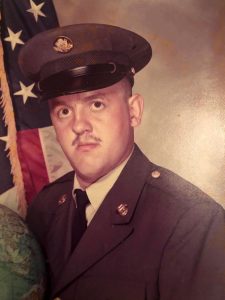 Kenneth Roy "Kilroy" McComb, 68, of Hot Springs, Virginia, passed away Sunday, August 14, 2022, at the Salem VA Medical Center.
He was born November 28, 1953, the son of the late Arnold Roy McComb and Thelma Virginia Thacker McComb.
Kilroy retired from the Homestead where he worked as a Grounds Keeper for the Upper Cascade Golf Course. He was a veteran of the United States Army. Kilroy was an avid hunter. He loved spending time with his nieces and nephews and his great nieces and nephews. He became a "grandfather" to Emily, Dylan and Jake. He was a hard worker who enjoyed his Sunday church rides with his cousin, Donald Lee Altizer, and attending all Bath County sports.
He is survived by a half sister, Joyce Ratliff of Cleveland, Ohio; a sister-in-law, Gail McComb of Marion, North Carolina; nieces and nephew,  James McComb, Jr. of Hot Springs, Christina Rocha of Covington, Virginia, Cynthia McComb and Melissa McComb both of Marion, North Carolina, Stephanie Walker of Ohio, Jessica Walker and Walter Walker both of Michigan; great nieces and nephews, Calib Rocha & wife Carey, Emily Black, Dylan McComb, Brooklyn Neifert, Jacob McComb; and a great great niece and nephew, Elena Rocha and Khre'tien Lockett.
In addition to his parents, he was preceded in death by a big brother, James Arnold McComb; and his second mother Leona Altizer.
A funeral service will be conducted at 2:00 p.m., Thursday, August 18, 2022, at McLaughlin & Young Funeral Home with Pastor Donald Lee Altizer officiating. Interment will be in Jacob Cleek Cemetery.
The family will receive friends Wednesday evening from 6:00 – 8:00 p.m. at McLaughlin & Young Funeral Home and one hour prior to services from 1:00 – 2:00 p.m., Thursday at the funeral home or any time at the home of James McComb, Jr.
Memorial contributions may be made to Burnsville United Methodist Church, c/o Joyce Alexander
104 Buck Run Lane, Burnsville, Virginia 24487 or Hot Springs Volunteer Fire Department, P.O. Box N, Hot Springs, Virginia 24445.