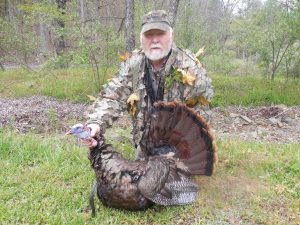 Kirby Alban Buzzard, 59, of Mountain Grove, Virginia passed away Monday, March 13, 2023, at his residence.
He was born November 4, 1963, in Marlinton, West Virginia, the son of the late Robert Arlington Buzzard and Agnes Foster Washburn Buzzard.
Kirby retired as a Sergeant from the Clifton Forge Police Department, where he also served as a member of the Task Force. A devoted officer with many years of service, he lived for his police work and thoroughly enjoyed law enforcement.  He was an avid outdoorsman who enjoyed hunting and fishing. He was a member of the Millboro Masonic Lodge #28, National Rifle Association, Virginia Deer Hunters Association, and National Turkey Federation. He was past member of the Mountain Grove Volunteer Fire Department. He was a loving father and brother. Kirby never knew a stranger; he was a friend to all.
He is survived by his daughter, Susan Buzzard of West Virginia; a brother, Craig Buzzard of Mountain Grove; his girlfriend, Brenda Taylor of Clifton Forge, Virginia; special friends, Jon & Pat Trees of Mountain Grove, Jerry Dale of West Virginia; numerous half-brothers and half-sisters; and his beloved dog, Dilly.
In addition to his parents, he was preceded in death by his wife, Becky Eileen Morgan Buzzard who passed away on June 4, 2004.
A funeral service will be conducted at 2:00 p.m., Tuesday, March 21, 2023, at McLaughlin & Young Funeral Home with John Young  officiating. Interment will be in Mountain Grove Cemetery.
The family will receive friends one hour prior to services on Tuesday from 1:00 – 2:00 p.m. at the Funeral Home, or between the hours of 1:00 – 3:00 p.m. Sunday, March 19th at the home of Jon & Pat Trees, 394 Little Back Creek Road, Mountain Grove.
Memorial contributions may be made to Mountain Grove Cemetery Fund, c/o Janice O'Farrell, 5792 Mt. Valley Road, Warm Springs, Virginia 24484.