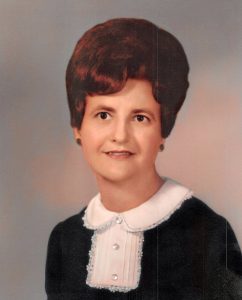 Leeoma Lucille Terry, 88, of North Chesterfield, Virginia passed away Friday, December 24, 2021, at the Chippenham Medical Center.
She was born March 22, 1933, in Bath County, Virginia, the daughter of the late John Alexander Terry and Mary Louise Leach Terry.
Miss Terry worked for the FBI as an office worker and later did recruiting in the Richmond office.
She was a member of Virginia Chapel United Methodist Church when she was a child.
She is survived by a sister, Ellen Bussard of Monterey, Virginia and numerous nieces and nephews.
She was preceded in death by her brothers and sisters, Charles Ernest Terry, Katherine Bussard Pullin, Jean Terry Layman, Chloe Terry Layman, Johnnie Terry, Jr., Leon "Squeaky" Terry, and Billy Gray Terry.
A funeral service will be conducted at 11:00 a.m., Friday, December 31, 2021, at McLaughlin & Young Funeral Home with Pastor Mike Puffenbarger officiating. Interment will be in Warm Springs Cemetery.
Pallbearers will be Eddie Ailstock, Bob Andrews, Matt Andrews, Billy Terry, Stephen Terry, and Joseph Terry.
The family will receive friends one hour prior to services from 10:00 a.m. – 11:00 a.m. Friday morning at McLaughlin & Young Funeral Home.
In lieu of flowers memorial contributions may be made to Bolar Fire and Rescue Squad.