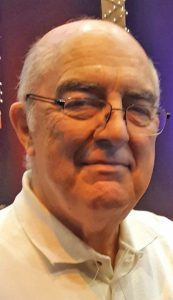 Roy was born and raised not far from Bath County in Elkton, Virginia. He passed away December 20, 2021 at UVA Medical Center after a short hospitalization. He is survived by his daughters Beth Rogers of Bacova, Shannon Kleckner of Orlando FL, his grandson Derek along with his wife Sarah and great grandson Jackson of Pittsburgh PA, grandsons Kyle Kleckner and Jeremy Kleckner of Orlando, his sister Diane Garrison and her husband Edward of Harrisonburg VA, niece Andrea Baibeche and her husband Abder, and sons Adam and Sofian of Puerto Rico, nephew Michael Garrison, his wife Sallie and daughters Audrey and Elaina of Harrisonburg and last but not least, his constant companion of 11 ½ years, his beloved poodle Fizzy. Roy was preceded in death by his wife of 46 years, Carol who passed away in 2009.
Roy's two passions, other than his family and his faith, were aviation and music. His love of flying became his career as a pilot for Eastern Airlines during the glory days of the industry.  After Eastern Airlines went out of business, he was a captain for a brief period for the short-lived Trump Shuttle and finished his career flying Captain for US Air Shuttle based out of Reagan National Airport. He shared his love of aviation by volunteering with EAA (Experimental Aircraft Association) and introducing youngsters to flying through the Young Eagles program. He and his grandson Derek spent many summers in Osh Kosh at the annual fly-in.
His passion for music was one that started at an early age, spending summers at music camp in Orkney Springs and singing in church choirs throughout his life. He was a member of the Christian Performing Artists Fellowship, singing for Presidents at the National Tree Lighting ceremonies, traveling to Russia and Israel to perform as well as singing the annual Christmas performance of Handel's Messiah in Washington DC. He also sang with the Manassas Chorale for many years.  Roy shared his love of music with his grandsons Kyle and especially Jeremy who is an aspiring actor, singer and musician.
Roy was an active member of the Warm Springs Presbyterian Church, serving as a Deacon, serving on the Session and as Treasurer of the Church.  He also served on the search committee to find Pastor Charles Reed and of course, he sang in the choir. Among his favorite songs to sing in church were Amazing Grace, Oh Holy Night and The Lord's Prayer.
A service celebrating Roy's life will be held at Warm Springs Presbyterian Church on Sunday, January 2nd at 2pm. Due to COVID, there will be no visitation period or reception following the service. In lieu of flowers, please consider a donation to Warm Springs Presbyterian Church or the Manassas Chorale, P.O. Box 101, Manassas, VA  20108.