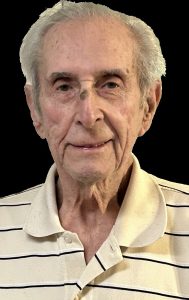 LeRoy George Popp, 92, of Hot Springs, Virginia passed away Tuesday, September 19, 2023, at his residence.
He was born August 24, 1931, in New York, the son of the late Charles Popp and Bertha Eichhorn Popp.
LeRoy was employed as an iron worker, specializing in stairs and railings.
He was a veteran of the United States Army having served during the Korean War.
He attended Hot Springs Presbyterian Church and was a member of the Bayside, Queens Masonic Lodge. LeRoy loved the outdoors; he enjoyed fishing, gardening, and woodworking. He was a loving husband, father, grandfather, and great grandfather.
He is survived by his wife, Joan Florence Johnson Popp of Hot Springs; children, David Popp and wife Carolyn of Long Island, New York; Thomas Popp and wife Kathryn of Long Island; stepchildren, Karen Hise and husband Richard of Hot Springs; Marissa Chestnut and husband George of Hot Springs; Carl H. Williams, Jr. and wife Susan of Troutville, Virginia; ten grandchildren, Brandon Popp, Michael Popp, Thomas Popp, Jr., Jake Popp, Trevor Popp, Jenna Newmarker, Avery Chestnut, Amber Chestnut, Simon Williams, Kendra Hise; and one great grandchild, Brantley Newmarker. He was preceded in death by his first wife, Marilyn Stock Popp, who passed away in January of 1984.
A funeral service will be conducted at 2:00 p.m., Saturday, September 23, 2023, at Hot Springs Presbyterian Church with Pastor Scott Conrad officiating. Interment will be in Calverton National Cemetery in Wading River, New York.
The family will receive friends immediately after the service.
Memorial contributions may be made to Hot Springs Presbyterian Church c/o Kathy Spurgeon, P.O. Box 476, Hot Springs, Virginia 24445.