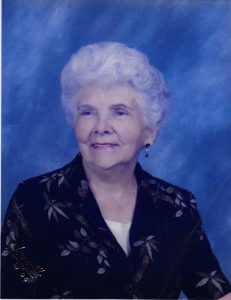 Margie passed away peacefully at home on Saturday morning, May 6, 2023 at 4:45am.
She was born on December 2, 1928, in Alleghany County, the daughter of the late William (Bill) Theodore Blake and Alice Blanche Johnson Blake.
Margie was a lovely and warm friend and neighbor. She served others, the church, and her Lord and Savior with passion. She was a hard worker all her life; from farming for long hours and as a beautician at The Homestead and later in her home.
She was a loving wife to Arthur and Rogers, a loving mother to Mike (Marchita) and to Gregory (Carol), a sweet grandmother to Kelly (Jerry Rucker), Kristen, Tyler, Jacob (Stefanie) and Emily (Whit Douglas); and always happy to see her great grandchildren Will, Savanna, and Sophia. Margie had a wonderful extended family she treasured spending time with including many nieces, nephews and cousins.
She loved her visits with her stepson Bob Leavine, his wife Sharon from Texas and their daughter Melynda and grandchildren Nicole, Tanner, and Michael, his wife Kenda and sweet great-great grandchild James. Also, with stepdaughter JoAnn Lee from Florida and her daughter, Rene.
She was a member of Sinking Spring Presbyterian Church where late in life she sang hymns without the hymnal. For many years she had been a member of Life Line Ministries Church.
Margie was preceded in death by her parents, her brothers Pat, Billy, Cecil and by her four sisters Mary Alice Kimberlin, Mariam Blake, Bertie Lou Koerschner, and Becky Hancock. Her son, Mike also preceded her in death in 1999. She was also preceded in death by her husbands, Arthur Martin and Rogers Leavine.
Her family is thankful for the many neighbors, friends, and caregivers for their love and concern for Margie as well as for the hospice nurses who assisted Margie and her family in her final months.
A memorial service will be held 2:00 p.m., Saturday, May 13, 2023, at Life Line Ministries Church with Pastor Frank Neff and Mr. Johhny Woodzell officiating.
Memorial contributions can be made to Union Chapel Cemetery Fund, c/o Debi Lowry, 1518 Sam Snead Highway, Hot Springs, Virginia or to Gentiva Hospice, 420 Neff Avenue, Suite 110, Harrisonburg, Virginia 22801.