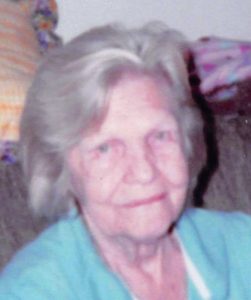 Mary Grace Simmons Pritt, 83, of Millboro, Virginia, passed away Saturday, February 25, 2023, at her residence.
She was born April 9, 1939, in Monterey, Virginia, the daughter of the late Sandy Paris Simmons and Francis Missour Smith Simmons. She was married to the late James Bernard Pritt, Jr. whom she married on September 3, 1960. He preceded her in death on April 22, 2022.
Mrs. Pritt was a 1960 Graduate of Valley High School, where she sang in the Glee Club. She worked at Jane Colby for several years and Camp Mont Shenandoah for 20 summers. She retired from BARC at the age of 62 where she worked as the Custodian. She was a member of Mount Horeb Baptist Church and loved to garden and go fishing. She enjoyed taking rides with her husband.
She is survived by her grandson, James "Bucky" Bernard Pritt IV of Iron Gate, Virginia; two great grandchildren, Jennifer Paige Pritt & James B. Pritt V of Iron Gate; special friends Darlene Rusmisel, Linda Carey, Tera Nicely, and Julie Mullen; a sister, Rebecca Cox of Clifton Forge, Virginia; six half-brothers and half-sisters, Robert, Roger, Michael, Anna, Gary and Sandra; two nieces and one nephew.
In addition to her parents and husband, she was preceded in death by a son, James "Buck" B. Pritt III.
A graveside funeral service will be conducted 2:00 p.m., Friday, March 3, 2023, at the Calvary Baptist Church Cemetery with Pastor Bill Gram officiating.