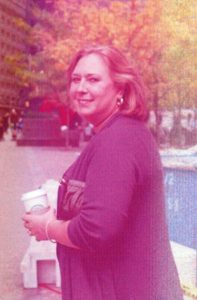 Michele Marie Lester (Wertime), 60, of Chester, Virginia, passed away Wednesday, March 22, 2023, in Hot Springs, Virginia. She was born October 10, 1962, in Bryn Mawr, Pennsylvania, the daughter of Richard Allen Wertime of Merion Station, Pennsylvania and Jane Siple DeWitt of Orono, Maine.
Michele moved from Bryn Mawr, to Arlington, Virginia with her family in 1968. She was a 1981 graduate of Yorktown High School in Arlington, where she stayed for most of her young adult life. She met Michael Herman Lester in 1984, and the pair spent a perfect summer falling deeply in love. She married Mike and had three daughters, Sara Michele, Rebecca Cortney, and Amanda Katherine early in life – they would remain the great pride and joy of her life. Michele was a successful entrepreneur in several businesses. She was an avid bibliophile, often staying up late just to finish a good book. Mathematically inclined, she taught herself computer programing, and how to build and maintain home personal computers. She had a remarkable eye for decorating and skilled organizing. Although she traveled less than she would have liked, she enjoyed every trip – the good and bad – with the soul of a wanderer. Michele was inspired, gifted, and creative in her craftwork.
Michele lived a life of many challenges but more than anything a life full of love, family and friends. The companionship she found in her housing community brought her immense joy and belonging. She was proud to contribute to the craft club and to inspire creativity.  She had many years of happiness as an Odyssey of the Mind coach for her daughters and their friends. Her great sense of playfulness was just one quality that made up the house full of love she created, and was so proud of, that anyone and everyone knew they were part of. She adored hosting gatherings for family and friends, especially holidays, although she preferred to watch baseball at the ball park. She assembled an extraordinary collection of mementos, craft items, and artworks from different corners. She found joy in watching and feeding hummingbirds, and in caring for Elvis, the best bulldog anyone could ask for. It was perpetually Christmas time in Michele's heart. Despite being painfully shy, as she was her whole life, in moments of pure joy, you could hear her come out of her shell while quietly singing along to Christmas music, which she loved so much, or watch her beam when she shared extravagant home Christmas displays with family, friends, and strangers alike. If she was near a beach, any beach, you could not deny the captivating smile she had on as that is where she felt so much joy. Still, nothing ever mattered more to her than her daughters, son, and grandson.
She is preceded in death by her 'Buddy' – her husband, Michael H. Lester. Michele is survived by four children, Sara Michele Lester, Rebecca (Tim) Scholtes, Amanda Katherine Lester, and Alec Tedrick; a grandson, Calvin Scholtes; parents Richard Wertime and Jane DeWitt; brothers, Kent (Nok) Wertime, David (Diane) Wertime, Geoffrey (Philip) Wertime; a nephew, Tobias Wertime; two nieces, Sasha and Octavia Wertime.