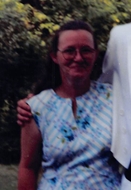 Minnie Pearl Jones, 67, of Hot Springs, Virginia passed away Saturday, February 04, 2023, at Salem, Virginia.
She was born February 4, 1956, in Hot Springs, the daughter of the late Alphiea Jones Wilson.
Mrs. Jones formerly employed with the Homestead in the housekeeping department.
She was a member of Eden United Methodist Church and attended Faith Covenant Church. She enjoyed hunting mushrooms and being in the outdoors. She loved her animals and gardening, especially flowers. She was a loving mother and grandmother.
She is survived by her son John Jones & wife Teresa of Millboro, Virginia; a granddaughter, Natalie Grey Jones of Millboro; two sisters, Ettie Wolfe of and Joyce Jones both of Hot Springs; and an uncle who raised her, LeRoy Jones of Hot Springs.
In addition to her mother, she was preceded in death by and aunt who raised her, Mildred Jones.
A funeral service will be conducted at 1:00 p.m., Friday, February 10, 2023, at McLaughlin & Young Funeral Home with Pastor Bill Gram officiating. Interment will be in Warm Springs Cemetery. Pallbearers will be Michael Tolson, Chewey Tolson, Christian Heffler, Jason Hiner.
Memorial contributions may be made to McLaughlin & Young Funeral Home to help pay for her final expenses. Please mail checks to P.O. Box 1112, Hot Springs, Virginia 24445, or call 540-839-2961 for a credit card payment.