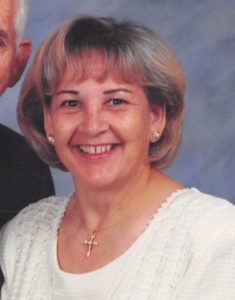 Nancy Ellen Riley Williams, 81, of Warm Springs, Virginia passed away Monday, March 14, 2022, in Warm Springs, Virginia.
She was born February 12, 1941, in Millboro Springs, Virginia, the daughter of the late Samuel Franklin Riley and Nancy May Mines Riley. She was raised and loved by her foster parents Robert and Madaline Jones.
She was married to Charles Leroy Williams, her husband of 60 years, who preceded her in death on Sunday, June 20, 2021.
Nancy was a self-employed beautician and was very proud to have graduated from Beauty School. She was a member of Life Line Ministries. She was a loving wife, mother, grandmother and sister, who was very close to her family. She loved her grandchildren and great grandchildren and always remembered them on special days. She was particularly close to her sister, Dreama Martin, who she frequently visited on a weekly basis. She loved to travel and could be seen out every day with her son or daughter. She was a big fan of Presley's Country Jubilee, and it made her day when she traveled to Nashville to see the Grand Ole Opry! She enjoyed her annual trip to her brother-in-law and sister-in-law, Jim & Sue Saris in Mt. Airy, Maryland. They would always visit the Charlestown Casino and Racetrack. She would save her nickels all year for this event; however, she had a $5 limit, regardless of how good she was doing!
She is survived by two children, Deborah J. Harris & husband Ronald of Appomattox, Virginia, Charles Williams, Jr. & wife Tracey of Bolar, Virginia; four grandchildren, Susan Arrington & husband Dan, Sharon Shelton & husband Alan, Andrew Williams, and Nikolas Williams; great grandchildren, Addie, Ella, Autumn, Ava; and a sister, Dreama Martin & husband Phillip of Hot Springs, Virginia; brothers-in-law and sisters-in-law, Jim and Sue Saris, and Edwin & Carole Williams.
In addition to her parents, foster parents, and her husband, she was preceded in death by a grandson, Charles Leroy Williams III; a brother, Samuel Franklin Riley, Jr.; a foster brother, Robert Jones, Jr.; two foster sisters, Iris Leary and Lorna Law.
A funeral service will be conducted at 11:00 a.m., Thursday, March 17, 2022, at McLaughlin & Young Funeral Home with Pastor Zach Royer officiating. Interment will be in Big Valley Cemetery.
Pallbearers will be Andrew Williams, Nickolas Williams, Dan Arrington, Alan Shelton, Phillip Martin, Carl Allan Moyers
Honorary Pallbearer will be Jim Saris.
The family will receive friends 1 hour prior to services, from 10:00 a.m. – 11:00 a.m.  at at the funeral home.
Memorial contributions may be made to Bolar Fire Department.
Arrangements are being handled by McLaughlin & Young Funeral Home. Online condolences may be made at www.mclaughlinandyoung.com.