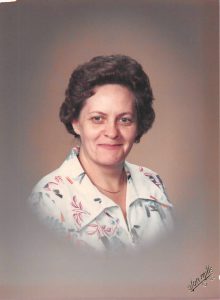 Nettie Louise Hodge Lindsay, 82, of Hot Springs, Virginia passed away Monday, October 03, 2022, at her residence.
She was born January 7, 1940, in Bath County, Virginia, the daughter of the late Edward Campbell Hodge and Evelyn Catherine Bogan Hodge.
Mrs. Lindsay retired from the Homestead Resort where she worked as a Cashier at the Checker Stand and other departments throughout the resort.
She was a member of Starr Chapel Community Church, where she was a lay leader, Sunday School teacher, secretary, and music leader. She was a loving wife, mother, grandmother, and great grandmother. She was a wonderful cook and loved baking cakes for people in the community. She enjoyed singing, dancing and taking rides through Hot Springs with her husband David.
She is survived by her husband of 27 years David Garland Lindsay, whom she married on December 25, 1995; seven children, Susie Lee & husband John of Knoxville, Tennessee, Helen Burns of Clifton Forge, Virginia, Sarah Burns of Millboro, Virginia, Tillie Graham & husband Fred of Chesterfield, Virginia, Millie Burns of Deerfield, Virginia, Sharon Weinstein & husband Mike of Henrico, Virginia, and Clyde Burns of Hot Springs; nineteen grandchildren; twenty three great grandchildren; and a sister, Betty Hicklin of Hot Springs.
She was preceded in death by a son, Royce Burns; and a granddaughter, Emily Burns; a brother, Bill Hodge.
A funeral service will be conducted at 2:00 p.m., Friday, October 7, 2022, at McLaughlin & Young Funeral Home with Pastor Buddy Davis and Pastor David George officiating. Interment will be in Jacob Cleek Cemetery. Pallbearers will be Rocky Phillips, Danny Robertson, Darrell Hicklin, Frankie Hicklin, Georgie Lindsay, BJ Lee, William Berry, Anthony Hiser, and Justin Bogan
The family will receive friends from 6:00 – 7:00 p.m., Thursday evening, October 6 at McLaughlin & Young Funeral Home.
Memorial contributions may be made to Star Chapel Community Church, c/o Betty Hicklin, P.O. Box 925, Hot Springs, Virginia 24445 or Hot Springs Rescue Squad, P.O. Box N, Hot Springs, Virginia 24445.