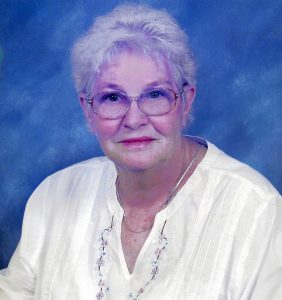 Nina Frances Smith Baldwin, known as "Granny B" to those that loved her, age 88, of Hot Springs, Virginia, passed away Thursday, December 23, 2021, at the Bath Community Hospital in Hot Springs.
She was born October 1, 1933, in Hot Springs, the daughter of the late Samuel Smith and Beulah Gilispie Smith.
Nina was retired from the Homestead Resort where she worked in the Housekeeping Department.
She was the matriarch to a large family which she loved fiercely. She enjoyed being with her family as much as possible and couldn't wait for the next adventure. Granny B enjoyed being crafty, sewing and knitting. She loved going to yard sales with her kids, playing bingo, and loved music and dancing. She loved the time she got to spend traveling with her brother, Carl and his wife Gisela, a few years ago as he took her on a cross country trip. She brought her pictures with her to show to anyone who was interested. She loved having any reason to get her family together and having a party. She loved taking care of kids and was driving through the age of 88. She was a member of Life Line Ministries Church.
She is survived by seven children, Arlene Meade of Nickelsville, Virginia, Carolyn "Sissy" Hise & special friend John Hart of Hot Springs, Diana Shifflett & husband Hugh of Hot Springs, Richard Baldwin of Hot Springs, Mary Simmons of McDowell, Virginia
Danny "Boone" Baldwin of Hot Springs, Phyllis Lindsay & husband Robert of Hot Springs; grandchildren, Cindy McConnell, Ronnie Meade, Jr., Sandra Bass, Angela Goodbar, Courtney May, Glenn "Chipper" Hiner, Missy Auldridge, April Simmons, Robert Baldwin, Chris Brummitte, Chad Baldwin, Carrie Clutter, Brian Baldwin, Bridget Friel, Dyllan Baldwin, Jennifer Brummitte, and Kayla Mace; 33 great grandchildren, & 1 great-great grandchild.
She was preceded in death by two daughters, Edith Jewell Brummitt & Debbie Lee Baldwin; three grandchildren, Lee Jay Hiner, Craig Baldwin, Haley Baldwin. She was the last of her siblings, preceded in death by, Theodore Smith, Carl Smith, Howard Smith, Samuel "Buddy" Smith, Ralph Smith, and twins Melvin Smith & Elsie Martin; and also her ex-husband and father of her children, Peter Joseph Baldwin, Jr.
A funeral service will be conducted at 11:00 a.m., Thursday, December 30, 2021, at McLaughlin & Young Funeral Home with Pastor Zach Royer and Reverend Frank Neff officiating. Interment will be in Woodzell Baldwin Family Cemetery on Rocky Ridge.
Pallbearers will be Ronnie Meade, Jr., Glenn "Chipper" Hiner, Robert Baldwin, Chad Baldwin, Brian Baldwin, Levi Meade, Caleb Hiner, and Chance Auldridge. Honorary Pallbearers will be Hugh Shifflett, Tommy Baldwin, Boyd Goodbar, McKinley Goodbar, Glenn Hiner, and Jason May.
The family will receive friends one hour prior to services from 10:00 – 11:00 a.m.  at McLaughlin & Young Funeral Home or anytime at the home of Phyllis & Robert Lindsay, 2634 Sam Snead Highway, Hot Springs.