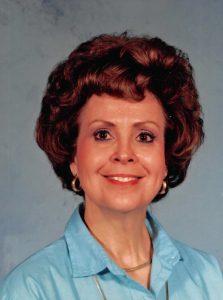 Patricia "Tricia" Neal Johnston Stinnett, 88, of Millboro, Virginia passed away Thursday, March 31, 2022, at her home, surrounded by family.
She was born in Roanoke, Virginia, the daughter of the late Russell and Helen McNeal Johnston of Salem, Virginia. She graduated from Richmond Professional Institute (Virginia Commonwealth University) in 1955 and went on to earn a Master of Education from the University of Norther Colorado. Patricia had a long, successful career as a high school teacher for over 25 years, where she taught marketing and fashion merchandising. She retired in 1998 from Annandale High School in Virginia. She loved teaching and her students, many of which stayed connected with her for many years after they graduated.
Patricia and Eddie were married for 64 loving years and had a beautiful marriage and relationship.  Eddie was the most important person in her life and never wanted to be apart from him. They shared a life and love that was marveled by all who knew them. She adored her two children, David and Laura, and always put family first.  She was a true example of a model wife, mother, daughter, sister, and friend.
Patricia loved life, was always happy and had the most beautiful, contagious smile that would light up any room. She was endeared by many friends throughout her life and enjoyed going shopping, meeting friends for lunch and spent many hours talking on the phone to friends and family in the later years of her life.
She is survived by her husband Eddie Wilson Stinnett, DDS (retired), children, David Wilson Stinnett of Millboro, Virginia, Laura Stinnett Spitnale (Scott) of Keedysville, Maryland, grandchild Grant Taylor (Brenna) of Keedysville, MD, sister Karen Neal Johnston of Fairfax, Virginia, sister-in-law, Audrey Unger Frazier (Louis) of Lynchburg, Virginia and brother-in-law, Rodney Stinnett, MD (retired) (Melissa) of Sky Valley, Georgia. She was predeceased by sister, Joan Johnston Dorsey of Salem, Virginia.
A memorial service will be held at a later date. Memorial contributions may be made to the Millboro Area Rescue Squad, P.O. Box 295, Millboro Virginia, 24460.