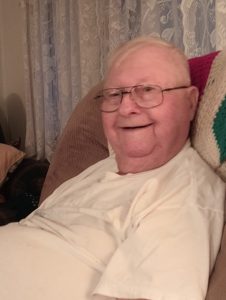 Paul Herman Craig, 86, of Millboro, Virginia went to be with the Lord on Tuesday, May 9, 2023, at the Bath Community Hospital.
He was born November 9, 1936, in Murphy, North Carolina, the son of the late William Nelson Craig and Estie Henson Craig.
Paul was a retired iron worker and a veteran of the US Army who served during the Korean War.
He was a member of the Calvary Baptist Church and the Masonic Lodge in Murphy, North Carolina. He enjoyed hunting, fishing, and being outdoors. Mr. Craig was a NASCAR fan and enjoyed watching football and westerns. He was full of life with a great sense of humor who loved people. Going to Pigeon Forge, Tennessee was a favorite past-time where he loved going to the various shows. He was the greatest dad, "Pops", who was always there to listen and give advice. He loved and served the Lord and often sang gospel songs. He was a loving husband, father and the "best Poppaw ever".
He is survived by a daughter, Lisa Biddix and husband Steve of Gastonia, North Carolina; grandchildren, Christy Falls of Blacksburg, South Carolina, and Amanda Wood & husband Dusty of Millboro, Virginia; great grandchildren, Janiyah and Josiah Moore of Blacksburg, Alexia, Aubrey, and Gunner Wood of Millboro; and a brother; Jack Craig of Murphy, North Carolina.
He was preceded in death by his wife, Jean Beatrice Lindsay Craig who passed away on January 8, 2020; a brother who was killed in WWII, Elisha Craig, a brother who served in WWII, Tom Craig, brothers Quince Craig and Creed Craig; sisters and brothers-in-law, Sadie Henson, Millie Craig, Mary Jane & Mackey Derreberry, Dollie Ruth & Leonard Sneed, Hazel & Henry Sneed; a teenage sister, Ruthie Craig who died at the age of 16, and a teenage sister May Craig who died at the age of 14.
A funeral service will be conducted at 11:00 a.m., Friday, May 12, 2023, at McLaughlin & Young Funeral Home with John Young officiating. Interment will be in Warm Springs Cemetery. Pallbearers will be Dusty Wood, Samuel Wood, Johnny Botkin, and the congregation of Calvary Baptist Church.
The family will receive friends Thursday evening from 7:00 – 8:00 p.m. at McLaughlin & Young Funeral Home.
The family wishes to express their sincere thanks and appreciation to all those who came to visit, brought food, or sent cards. A special thank you to the care givers who took such great care of Paul during his illness.
In lieu of flowers, memorial contributions may be made to the Calvary Baptist Church, 429 Crooked Spur Road, Millboro, Virginia 24460