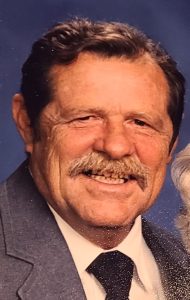 Richard Lloyd Grimes, 85, of Zephyrhills, Florida, passed away Wednesday, July 12, 2023, at the Rucki House Hospice in Zephyrhills.
He was born January 14, 1938, in Bath County, Virginia, the son of the late Howard C. Grimes and Thelma Christine Armstrong Grimes.
On May 12, 1956, he married Helen LaPierre Grimes, his wife of 66 years, who preceded him in death on March 28, 2023.
Mr. Grimes worked at the Mayflower Hotel in the Silver Department and in later years held various driving positions. He was a veteran, having served in the United States Army. He enjoyed spending time with his family and friends. His leisure time was spent watching movies, golf, and football.
He is survived by his daughter, Thelma Christine Grimes Slawson & husband Harry "Chuck" Slawson, Jr. of San Antonio, Florida; three sisters, Carol Claudine Keefer, and Virginia Wash & husband John all of Monaca, Pennsylvania, Gloria Pritt & husband Frank of Hot Springs, Virginia.
A graveside service will be conducted at 11:00 a.m., Tuesday, July 18, 2023, at the Warm Springs Cemetery in Warm Springs, Virginia with Pastor Bill Gram officiating. The family will receive friends Monday evening from 6:00 – 7:00 p.m. at McLaughlin & Young Funeral Home.
Memorial contributions may be made to Gulfside Hospice, 5760 Dean Dairy Road, Zephyrhills, Florida 33541.