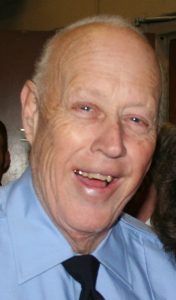 Robert Johnson "John" Hart, 81, of Hot Springs went to be with his Lord & Savior on Friday, March 17, while surrounded by family and friends.
He was born August 2, 1941, in Bath County Virginia, the son of the late Eugene Dennis Hart, Sr. and Mabel Florence Johnson Hart. He was married to his wife of 36 years, Mary Florence Herman Hart who preceded him in death on August 14, 2003. He was preceded in death by a brother, William Marshall Hart.
John was a dedicated member of the Hot Springs Fire Department since 1956, and a charter member of the Hot Springs Rescue Squad since 1963. He was the "Father" of Alleghany Mountain Radio Station, WCHG which he helped establish. He was a member of the Millboro Masonic Lodge #28 and the Virginia State Firefighter's Association. John was an avid camper, fisherman, and outdoorsman. After retiring from the Homestead Resort's Mechanical Department as a Master Electrician, he started his own property management business where he made many friends. He was a wonderful cook and provided many meals for the Shriners Club at Trappers Lodge. He was known for his famous French Fries which he shared throughout the community. He will always be remembered for his vehicles with the entertaining horns.
Left to cherish his memory are loving and devoted friends and caregivers Carolyn B. Hise, and Sandy Bass & husband Jesse all of Hot Springs; two children, Becky LaFountain of Hot Springs, Susie Hart of Elk Park, North Carolina; a granddaughter, Mary Jo LaFountain of Hot Springs; a brother, Eugene Hart, Jr.; a sister-in-law, Nancy Hart; two nieces, Amy Quarles & husband Jerry, Jean Green & husband Scott; and several grandnephews.
A celebration of his life will be held 11:00 a.m., Saturday, March 25, 2023, at Hot Springs Fire & Rescue Squad Building with Pastor Billy Robertson and Pastor Donald Lee Altizer officiating. The family will receive friends immediately after the service at the Fire & Rescue Building or anytime at the home of Carolyn Hise, 221 Thomastown Road, Hot Springs.
Memorial Contributions may be made to Hot Springs Fire Department or the Hot Springs Rescue Squad, P.O. Box N, Hot Springs, Virginia 24445.