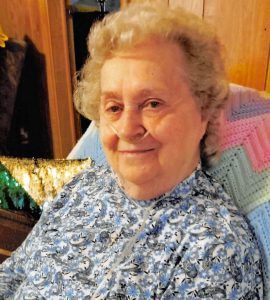 Ruth Ellen Campbell Newcomer Fix, 82, of Hot Springs, Virginia passed away Friday, May 27, 2022, at her residence.
She was born May 19, 1940, in Botetourt, Virginia, the daughter of the late Selice Aaron Campbell and Annie Beatrice Landes Campbell.
Mrs. Fix was a massage therapist at the Homestead Resort with over 20 years of service. She was a member of Ashwood United Methodist Church and attended Falling Spring Presbyterian Church. She was a caregiver for the elderly and enjoyed babysitting for the people in Bath County and the surrounding areas. She enjoyed crocheting and was a loving wife, mother, grandmother, and great grandmother.
She was married to the late Harry Robert Newcomer who preceded her in death in 1973, and the late William Henry Fix, Sr. who preceded her in death in 1991.
She is survived by five children Peggy Rogers & husband Gerald, Robert Newcomer & wife Teresa, Mary Rogers, and Harry Arnold Newcomer all of Hot Springs, William Henry Fix, Jr. & wife Edi of Covington, Virginia; eleven grandchildren, Brandi, Cole, Spring, Gregory, Samantha, Cody, Holly, Logan, Nikki, Norman, and Haley; eleven great grandchildren, Abby, Traeson, Kendall, Gunner, Lily, Hannah, Addison, Jaydon, Lennix, Paisely, and Norman; four sisters, Betty Morgan of Falling Springs, Virginia, Ethel Smith & husband Lee of Hot Springs, Mary Lipscomb and Juanita Montgomery both of Covington; a special friend, Opal Gazzola; her many friends at the Hairstyling Shop; and numerous nieces, nephews, and cousins.
She was preceded in death by a daughter, Donna Faye Dudley; a grandchild, Lauren; brothers, Selice Aaron Campbell, and Charles Edward Campbell; sisters Helen "Maw" Pritt and Barbie Sizemore; and a son-in-law, Gregory Allan Rogers, Sr.
A funeral service will be conducted at 2:00 p.m., Sunday, May 29, 2022, at McLaughlin & Young Funeral Home. Interment will be in Union Chapel Cemetery.
Pallbearers will be Greg Pritt, Jess Pritt, Gary Morgan, Ronnie Morgan, Robbie Weaver, Brandon Matheny.
The family will receive friends Saturday evening from 6:00 – 7:00 p.m. at McLaughlin & Young Funeral.