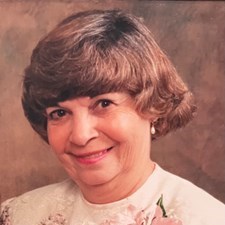 Mrs. Ruth H. Cleek, 94, died peacefully surrounded by her family on Monday June 14, 2021 in New Albany, Indiana.
Born December 21, 1926 in Warm Springs, Virginia, she was the daughter of the late Willie G. Hodge and Clara Stinnett Hodge, and wife to the late Ronald L. Cleek.
Mrs. Cleek was the President of the Valley High School Class of 1945 and a 1948 graduate of Dunsmore Business College with a degree in accounting. She worked for several companies before retiring in 1982. She loved to do needlepoint and color. She was a beloved Mother and Grandmother and will be greatly missed by her family and many friends and caregivers at Westminster Village.
Surviving are her sister, Evelyn Peery of Hot Springs Virginia, son Kevin L. Cleek (Donna) and
grandson Aaron J. Cleek of New Albany Indiana.
A graveside service will be held at 2:00 p.m., Tuesday, June 22, 2021 at Jacob Cleek Cemetery.
In lieu of flowers, the family asks for memorial contributions to be made to the Jacob Cleek
Cemetery, c/o Georgie S. Wyatt, 98 Dunsmore Road, Verona, VA 24482.