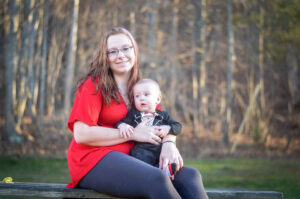 Samantha "Sammi" Nacole Day, 27, and her son Dakota "Shugga Boog" Nathaniel Bennett, 6 years old, both of Goshen, Virginia died Tuesday, August 17, 2021, in a tragic automobile accident in Goshen, Virginia.
Sammi was born September 27, 1993, in Low Moor, Virginia, the daughter of James Marshall Day and Lisa Ann Martin Thornton. Dakota was born April 24, 2015, in Salem, Virginia.
Sammi was employed as a waitress at the Village Roost. She was outgoing and had a special way of seeing the good in people that no one else could. She loved making others happy and that made her happy. She liked fishing and being outdoors She was a loving daughter, sister, and mother of two children. She enjoyed spending time with her friends and family.
Dakota was a precious little boy who would have been starting the 1st grade at Fairfield elementary school. He loved music and spending his time outdoors with his little sister, Chloe whom he adored, and his cousins. He loved Paw Patrol and Angry Birds.
They are survived by her father & stepmother (his grandparents) James Marshall & Jennifer Day;  her mother & stepfather (his grandparents) Lisa and Michael Thornton of Goshen, Virginia; her daughter (his sister) Chloe Gabrielle Bennett of Goshen;  her brothers (his uncles) Zachary Thornton of Goshen, Dustin Woods of Millboro; her sisters (his aunts) Kala and Bailey Jackson of Goshen, Jayme Day and Paige Woods both of Millboro; maternal grandparents (his great grandparents) Ruby & Gene Martin of Burnsville, Virginia; paternal grandmother (his great grandmother) Mary Cauley of Williamsville, Virginia; her great grandfather (his great great grandfather) Charles Conner of Pennsylvania; nephews and niece (his cousins) Remington Jackson, Gunner Thornton, and Piper Jackson; and many other friends and family.
She was preceded in death by her grandfather (his great grandfather) Arnold Cauley.
A funeral service will be conducted at 2:00 p.m., Sunday, August 22, 2021, at Craigsville Funeral Home in Craigsville, Virginia with Pastor Donald Lee Altizer officiating. Interment will be in the Hodge Family Cemetery in Highland County, Virginia.
In lieu of flowers, the family request donations to help with the funeral expenses. Please mail a check made payable to McLaughlin & Young Funeral, P.O. Box 1112, Hot Springs, Virginia 24445 or call 540-839-2961 with a credit card.